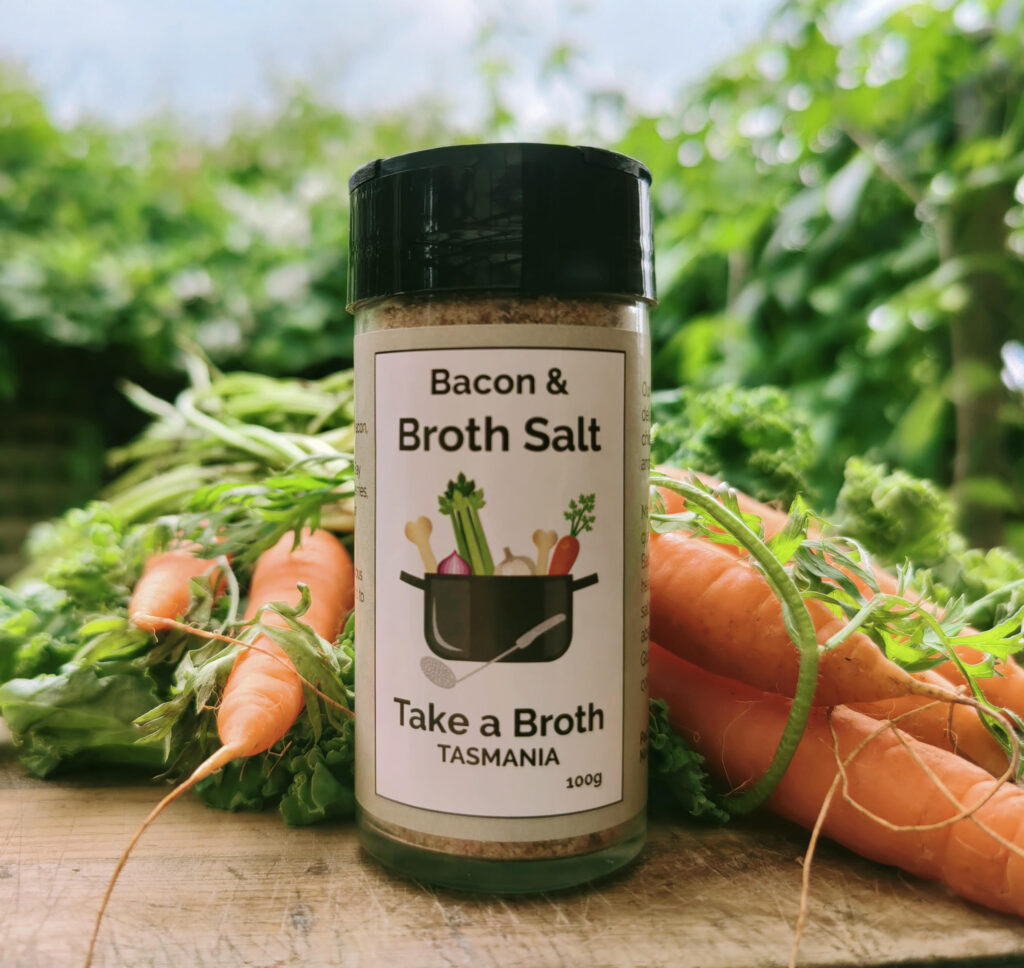 How to use Bacon & Broth Salt
Bacon makes everything taste better! Our newest product is here and I am going to give you some suggestions on how to use Bacon & Broth Salt!
Bacon & Broth Salt combines the amazing nutritional benefits of Chicken Bone Broth Powder with Australian Pink Lake salt and premium bacon.
I source the bacon from a local NW Tassie farm (who also supply my bones). It's incredibly good quality, ethical, free-range and preservative free. It's made the old fashioned way with salt rubs and lightly smoked in-house.
The Bacon & Broth Salt is truly a taste sensation, made from real, whole, healthy foods and zero additives, msg or nasties.
There are bacon salts on the market but the ingredients are pretty diabolical (and plenty don't even contain bacon!) so it was my mission this year to make a bacon salt that was actually good for you! Does anyone remember the bacon-flavoured chips from the 80s? They were truly awful!
There are so many ways you can use the salt. Simply use it in place of your regular salt to add flavour to your meals or try some of these ideas:
♥ Use it on my Roasted Air Fryer Corn recipe
♥ Sprinkle on top of soups for extra flavour (particularly good on cauliflower or leek and potato)
♥ Shake onto your homemade potato chips or wedges
♥ Add to your homemade salad dressings or straight on salads
♥ Rub over any meat before roasting, grilling or barbecuing
♥ Add to hummus, guacamole, pesto or any homemade dips and spreads
♥ On your homemade popcorn (add plenty of butter as well!)
♥ In pizza dough or on top of pizzas
♥ On eggs – scrambled, fried, poached, omelettes, quiche, sprinkle on a boiled egg for the best snack
♥ On a jacket potato with plenty of sour cream and chives
♥ Stirred through mashed potatoes
♥ To top your potato bake
♥ Add to steamed vegetables for extra flavour (so good on green beans and asparagus)
♥ Sprinkle on top of pasta (particularly great for macaroni cheese)
♥ Add to the mince when making homemade burgers
♥ On slices of fresh tomato in a sandwich
♥ Take your avocado on toast to the next level with a sprinkle
♥ Use to season Roasted Chickpeas
♥ Add it to our Beef Broth BBQ Rub and use it for a bacony, BBQ flavour.
…and some ideas outside the box!!
♥ On the rim of your glass for a Bloody Mary
♥ On little sprinkle in top of chocolate chip biscuits before you cook them
♥ Add a little sprinkle to your salted caramel recipes in place of the regular salt
♥ Add a dash when you make dark chocolate
I would love to hear from you. What are you going to use it on? Let me know and of course, tag me on socials @takeabrothtasmania. I can't wait for the feedback
\