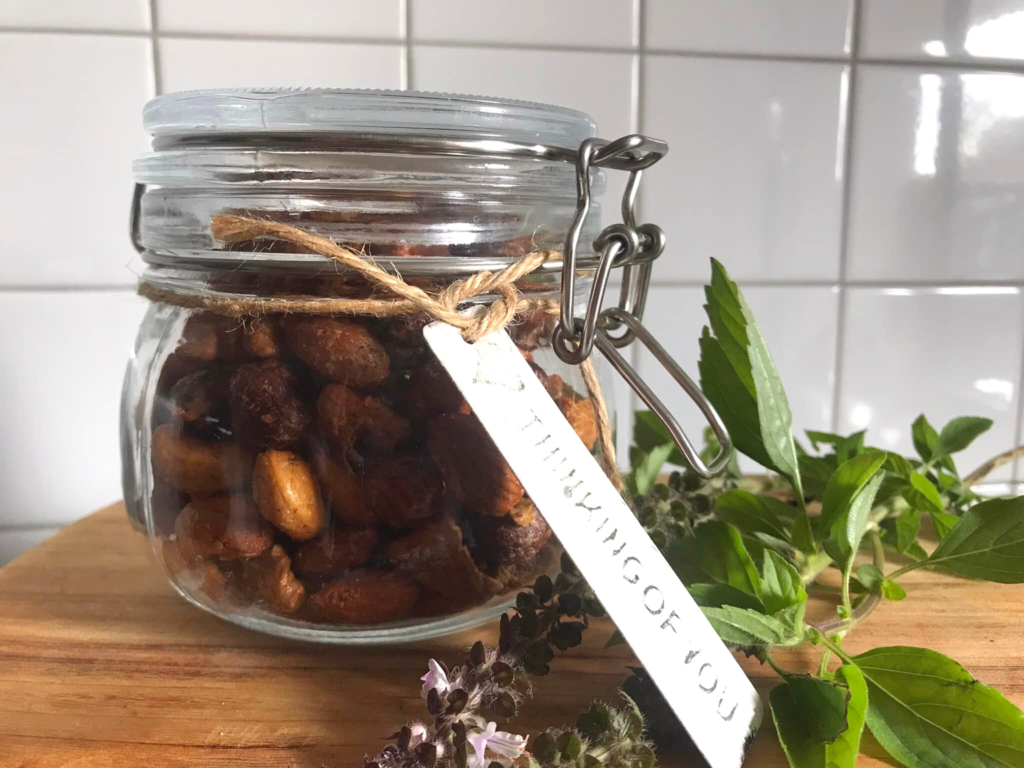 Air Fryer Honey and Bacon Spiced Nuts
Here's a quick recipe you can make for a gifting or just for snacking. These Air Fryer Honey and Bacon Spiced Nuts are perfect for Father's Day to spoil your dad with a yummy but healthy treat.
They are so quick to make in the air fryer, but if you don't have one, you can just bake them in the oven on a baking paper lined tray for about 20-30 minutes at 160 degrees celsius.
You have to keep an eye on your spiced nuts so they don't burn! All air fryers and ovens are different so keep checking them. You may need more or less cooking time, depending on your appliance.
They will crisp up as they cool down, so don't worry if they are still a little soft.
Store these nuts in an airtight container for up to two days. For gifting, pop in a cute jar and add some twine or ribbon.
You can use any type of nuts, but pecans and walnuts are particularly delicious as they catch all the yummy flavouring in the crevices. The egg white creates a crispy coating and helps the spices to stick.
Use a good quality, local honey for best flavour and health benefits. You can leave out the honey if you like but the sweet, salty, bacony combination is incredibly delicious and very moreish!
I have used my Bacon & Broth Salt for this recipe, but the Beef Broth BBQ Rub would also be delicious. I would use two teaspoons and leave out the garlic powder. Adjust the amount of chilli powder according to your tastes!
Best of all, these spiced nuts are a healthy, nutrient dense snack with no artificial additives and making them yourself is very economical compared to buying them.
As well as snacking on them, you can also use them to top a salad or soup! Yum!!
Check out our reel on social media for more photos and if you make it, tag us – @takeabrothtasmania!
What else can you use our Bacon & Broth Salt on? Find out more ideas here.
Air Fryer Honey & Bacon Spiced Nuts
Ingredients
2 cups mixed raw nuts
1 egg white
1 tablespoon honey
1 teaspoon Bacon & Broth Salt
½ teaspoon garlic powder
pinch chilli powder
Instructions
Whisk the egg white and then mix in the other ingredients.
Spread out in an even layer in your air fryer.
Cook at 160 degrees celsius for 8-10 minutes, shaking and checking a few times.
Cool down before storing.