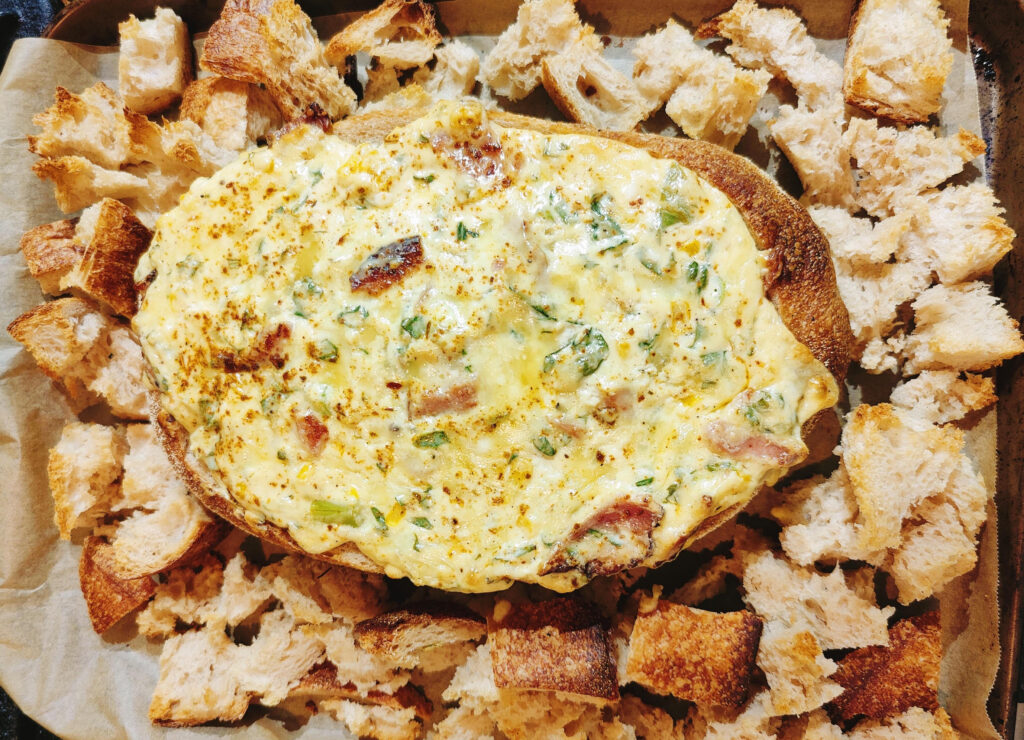 Bacon and Corn Sourdough Cob Loaf
Are you even Australian if you don't love a cob loaf? This is my take on the classic – Bacon and Corn Sourdough Cob Loaf.
The secret to this cob loaf is using quality ingredients for the best flavour and nutrients.
I use my Beef Broth BBQ Rub and my Bacon & Broth Salt to add great flavour without the nasties!
Because of the fermentation process, sourdough is a great choice of bread. It acts as a prebiotic in your gut, has a lower GI and the bioavailability of nutrients is enhanced.  Find a local baker that makes traditional artisan sourdough without preservatives.
I source my bacon locally (and it's the same one I use for my Bacon & Broth Salt) from free range farmers who use a traditional process without additives. It also pays to check the ingredients of your sour cream to make sure there are no thickeners and gums.
The cob loaf is also a good chance to add some vegetables – spring onions, spinach and corn work well with these flavours but you could also use some grated zucchini, kale or silverbeet if you like. If you want to use onion, just cook it first with the bacon.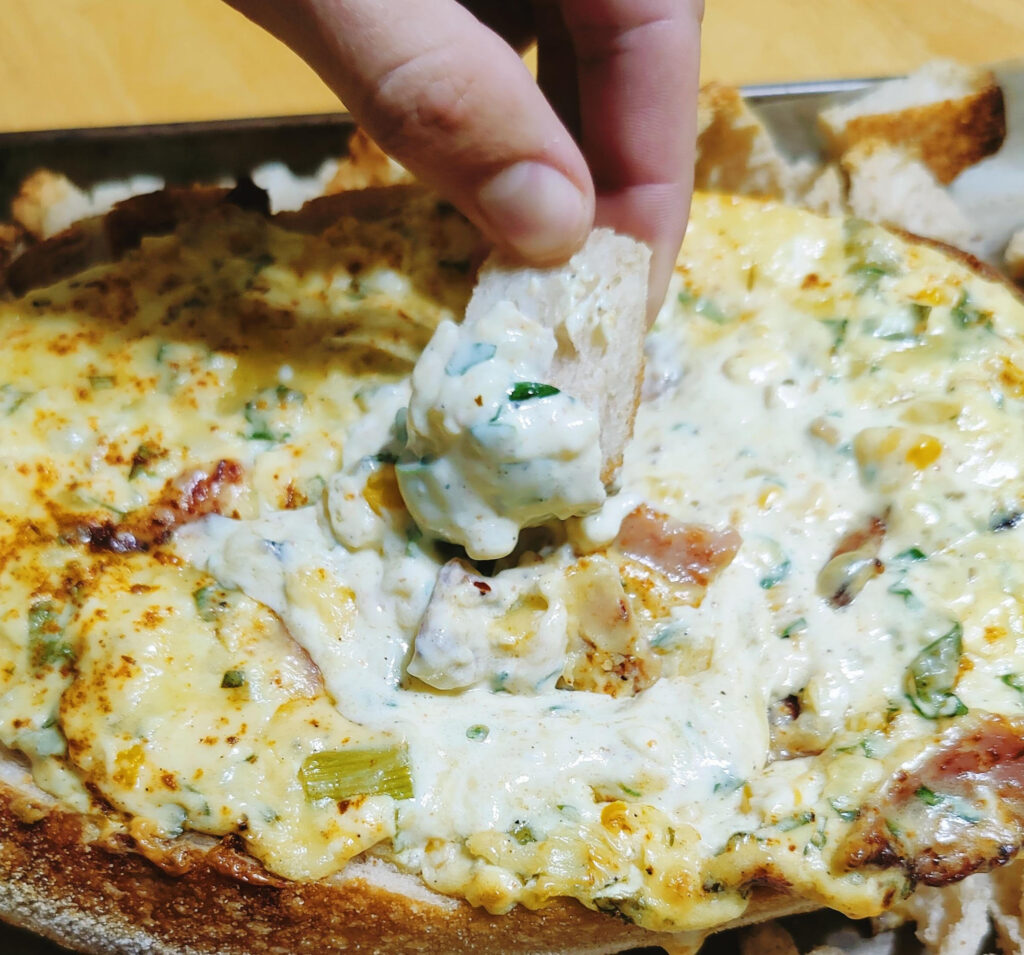 If you have leftover filling, you can freeze it and use later to make mini cob loaves with bread rolls or try spreading it on toast and grilling. You could even pour it over some cauliflower and make a supercharged cauliflower cheese!
My Bacon and Corn Sourdough Cob Loaf is a fantastic dish for parties and barbecues, particularly coming up to winter when something hot and tasty hits the spot!
If you've never made one, give it a go and I promise you will love it.
Bacon and Corn Sourdough Cob Loaf
Ingredients
Large round sourdough loaf
2 cups sour cream
1½ tablespoons Beef Broth BBQ Rub
1 teaspoon Bacon & Broth Salt
1 corn cob
4 bacon rashers
½ cup grated cheddar cheese
½ cup feta cheese
3 spring onions
¼ cup baby spinach
cracked black pepper to taste
Instructions
Combine the sour cream, Beef Broth BBQ rub, Bacon & Broth Salt and pepper and sit in the fridge for 30 minutes.
Preheat the oven to 180c.
Cut corn off the cob.
Chop bacon into small pieces and cook in a pan.
Grate the cheddar cheese and crumble the feta cheese.
Chop the spring onion and spinach finely.
Combine everything except the bread and mix well.
Cut the top off the sourdough loaf and cut out the middle of the bread.
Cut the removed portion into squares.
Place the filling into the cob loaf.
Arrange the bread around the outside.
Bake for fifteen minutes or until the middle of the filling is hot.
Keep an eye on it so it doesn't burn!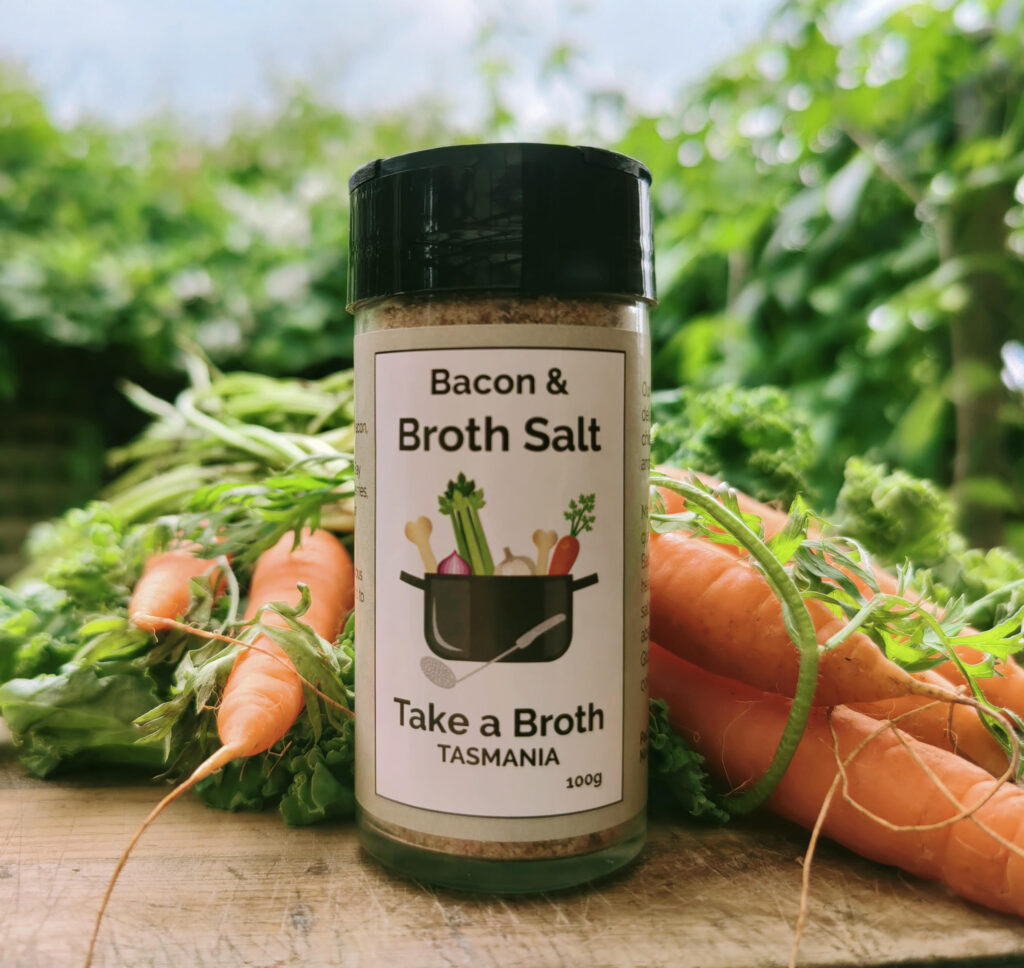 BUY BACON & BROTH SALT HERE