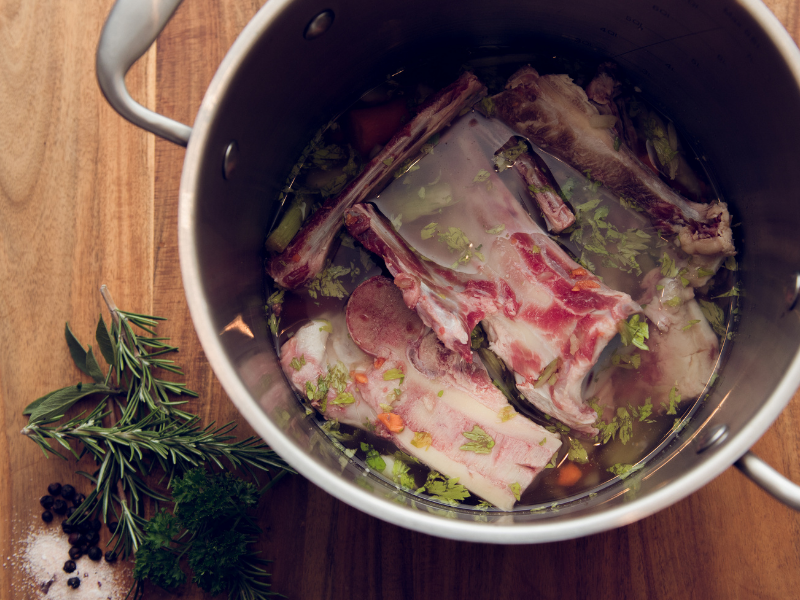 What's in my bone broth?
Good question! Not all bone broths are created equal, so I wanted to give you a bit more information about what's in my bone broth.
Take a Broth Tasmania has a range of bone broth products – dehydrated powders, strips, salts, spice rubs and lollipops. You can find the shop here.
Originally I started making bone broth to heal from a workplace accident I had back in 2010.
I was blown away by the healing properties, the change in my body and how much it helped me that I wanted to share this magical elixir with everybody. I developed a method to dehydrate it and bone broth powder was born!
I've remained a small, artisanal business so I have input into every aspect of Take a Broth Tasmania. This allows me to remain true to my ethics and values.
Sustainability is incredibly important to me, as is producing a high quality product. My family and I consume these products everyday so I will never compromise!
I hand-source every ingredient in my broth. Everything I use is local (except the juniper berries I add to aid digestion), spray free and grown using organic practices where possible.
It's very important that bone broth as a healing product, contains no toxins at all. It's supposed to make you feel better, not worse!
I am very particular about sourcing the bones for my bone broth products. I drive an hour and a half to a Tassie farmer who provides me with animal bones that are of the highest quality and have been reared using organic practices and fed grass, not grains.
Why is Take a Broth Tasmania not certified organic? 
There are some great broths out there that are certified organic but for my business, the added cost of getting a certification and for my suppliers getting a certification means that I would have to pass that cost on to you and the broth would be considerably more expensive.
I am passionate about everyone being able to enjoy the benefits of bone broth so that means for me, a more affordable product that is still of the highest quality is the most accessible for more people.
So, after sourcing the best quality ingredients I can find, I hand make the broth in small batches in a local commercial kitchen. You many notice inconsistencies in colour due to the variations in fresh produce. Sometimes I get a friend in to help me, but mostly it's just me making everything!
There's a lot of love, care and attention that goes into every batch of broth.
I only use bones, filtered rain water, vegetables, herbs, seaweed and Tasman sea salt (and extra virgin olive oil in the vegan broth). Everything is cooked together, the bones removed and the remainder dehydrated.
I don't add anything to the finished broth. There are no fillers like tapioca, flours, yeast flakes and collagen powder or artificial additives, colours or flavours. There is no concentrated broth from other sources added.
It's just all real food from Tassie!
As I personally carry out every aspect of  production from sourcing ingredients to the packaging, you can be assured that the bone broth is of the highest quality and meets my high ethical standards.
So, if you are looking for an affordable, high quality bone broth that is sustainable, ethical and will improve your health, Take a Broth Tasmania is for you!!
I would love to hear your feedback. Get in touch anytime to chat about broth!