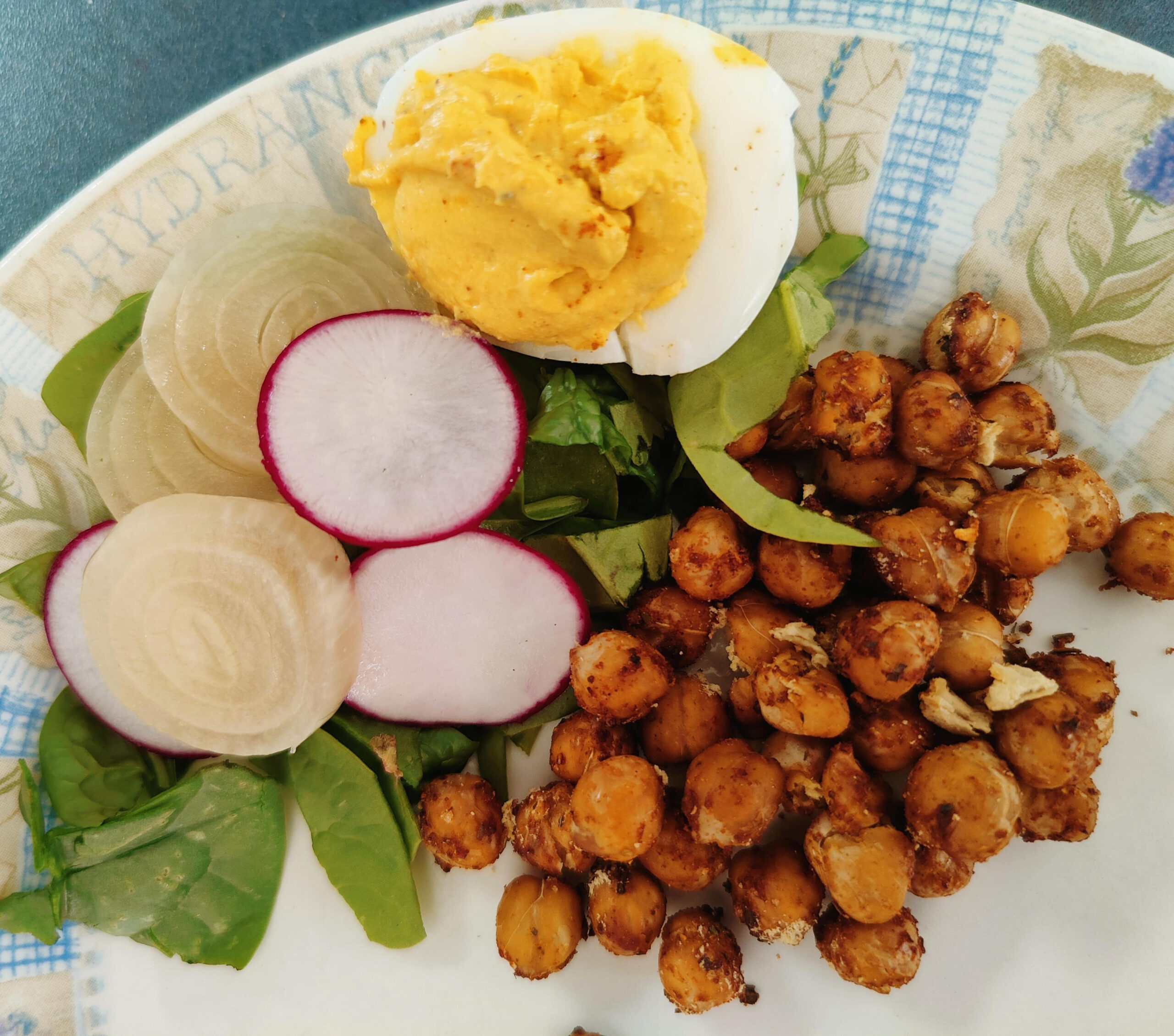 Air Fryer Roasted BBQ Chickpeas
My Air Fryer Roasted BBQ Chickpeas are the easiest recipe ever!
You can whip up some yummy nibbles with just three ingredients from the pantry.
They take less than five minutes to cook in the air fryer. You can also cook them in the oven, but it will take 15-20 minutes plus oven preheating time.
The drier you can get the chickpeas, the crispier they will be. Keep an eye on them as they go from crispy and done to burnt in seconds!!
These roasted chickpeas are delicious on their own as a healthy snack or nibbles for a party.
I also love them on top of a salad or soups. You could also add them to buddha bowls. They give a really good crunch and flavour.
This is such a healthy snack and gives you all the savoury crunch of potato chips without toxic oils!
Chickpeas are high in fibre and protein and can make a good substitute for nuts. They also have iron, magnesium, potassium, zinc, folate and vitamin A. You also get added nutrients and goodness of broth from the Beef Broth BBQ Rub.
Try to choose organic chickpeas in a BPA-free can. You can also use dried chickpeas – soak them overnight with a dash of bicarb, cook and then follow the recipe.
The chickpeas are best eaten on the day they are made. You can store in the fridge, but they may go a little soggy and need crisping up again in the air fryer.
If you need this recipe to be vegan or vegetarian, you can use my Vegetable Broth Salt, just using a couple of teaspoons.

Air Fryer Roasted BBQ Chickpeas
Ingredients
1 can of chickpeas
½ tablespoon Beef Broth BBQ Rub
1 teaspoon olive oil
Instructions
Drain the chickpeas well and rinse.
Dry well. You might like to remove skins.
Add to a bowl with the Beef Broth BBQ Rub and the olive oil.
Combine well.
Cook in your air fryer for 4 minutes on 200 degrees celsius.
To cook in the oven, place on a flat tray with baking paper and cook 15 to 20 minutes at 200 degrees celsius.
This is just one of the ways you can use my Beef Broth BBQ Rub in your cooking. It's so versatile and adds great flavour without additives and msg. Find some more ideas for the BBQ Rub
here.
I would love to hear from you if you make these! Tag me on social media if you make them @takeabrothtasmania.