Chocolate Pretzels with Chicken Broth Salt
Okay, stay with me here!! I promise you these Chocolate Pretzels with Chicken Broth Salt are a taste sensation that will have you coming back for more.
They are a very moreish combination of crunchy, sweet and salty all in one delicious mouthful.
They are really quick and easy to make. Make up some batches for gifts that are a little bit different. Pop in a nice upcycled jar and wrap with a ribbon or some twine.
Ingredients for the Chocolate Pretzels:
Now if you can't get unsalted pretzels, just tip out your bag of pretzels onto a tray and discard the excess salt before you start.
I use 70% Lindt dark chocolate, but use whatever you like. I don't recommend one with any additions like sultanas or nuts though or you will have chunky bits in your mix!
Dark chocolate is high in antioxidants and is a great source of zinc, magnesium and iron, so from a health point of view it's usually much better for you than milk chocolate.
The honey is optional but it does add another layer of flavour complexity and a bit more sweetness especially if you are using dark chocolate.
The coconut oil adds nutrients and makes the chocolate just that bit easier to work with.
My Chicken Broth Salt adds a tasty savoury flavour. It's just a combination of my Chicken Bone Broth Powder and salt – absolutely no nasty additives!
You could also try this recipe with my Bacon & Broth Salt or my Vegetable Broth Salt.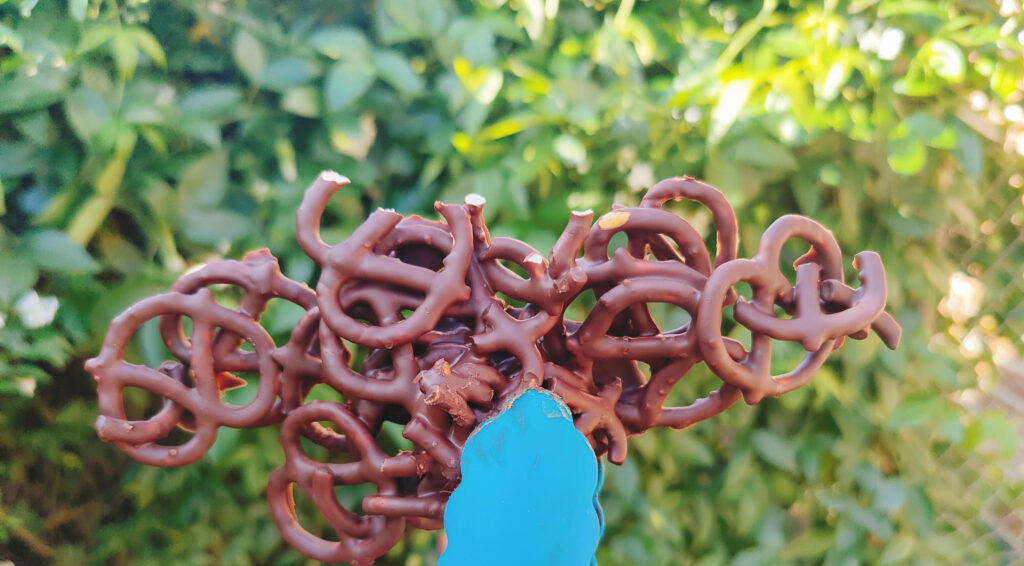 How to melt chocolate in a double boiler:
Using a double boiler is always a good idea when melting chocolate to avoid burning or cooking it. If you don't have a double boiler at home, just use a saucepan with a stainless steel or heatproof bowl sitting on top.
Make sure the bowl is big enough to cover the saucepan so no water gets into the chocolate. This creates a seal so the steam can't escape and you get a nice even heat to melt your chocolate.
Don't fill the saucepan with too much water – you don't want it touching your bowl. You only need a gentle simmer – don't have the heat too high.
The smaller you chop your chocolate, the quicker it will melt.
Did you know? Never use a wooden spoon when melting chocolate as they are porous and retain water. This can result in water being released into your chocolate and seizing it up.
Store the pretzels in the fridge in an air tight container (if you have any left!!)
I would love to know what you think of my Chocolate Pretzels with Chicken Broth Salt! Tag me on socials if you make them and share your thoughts.
Chocolate Pretzels with Chicken Broth Salt
Ingredients
200g packet of unsalted pretzels (see notes)
400g chocolate of your choice
1 tablespoon coconut oil
1 teaspoon honey (optional)
Sprinkle of Chicken Broth Salt
Instructions
Pop a saucepan of water on the stove and get it on a gentle simmer.
Add a bowl or double boiler on top.
Break up your chocolate into pieces and add to the bowl, stirring often with a stainless steel spoon until it melts.
Add other ingredients and stir well.
Add the pretzels and give it a gentle mix with a fork.
Place in a single layer on a baking paper lined tray with tongs or a fork.
Sprinkle with Chicken Broth Salt.
Place in the fridge to set.