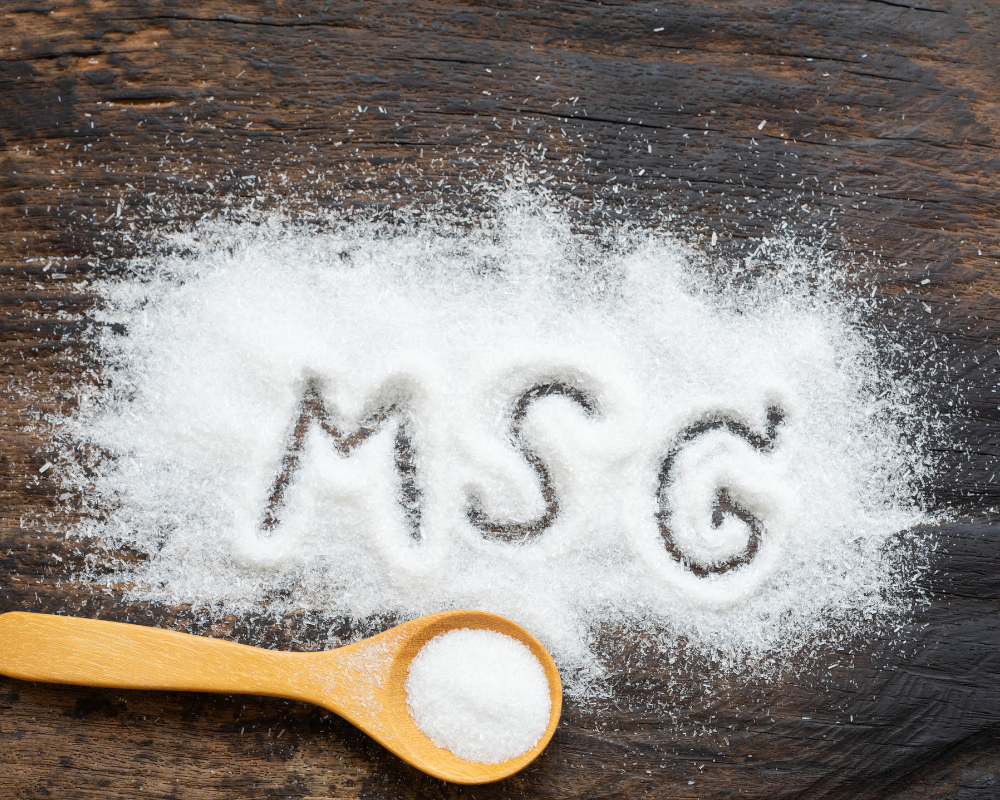 MSG and where it's hiding!
MSG can cause so many health issues and it's in so many processed food, sometimes hiding under a different name. It's very addictive and may be the reason so many people get stuck in a cycle of craving junk food.
I wanted to bring this to your attention because heavily processed, commercial bone broth, stock powders and bouillon cubes are notorious for being full of MSG. It's just one reason why I wanted to make a broth product that was safe, non-toxic and contained just real food.
What is MSG?
Monosodium glutamate (MSG) is a flavour enhancer often added to processed foods, takeaways and restaurant foods. It became popular in Chinese restaurants and people would often feel unwell after eating there.
What harm can MSG do?
While there is still debate surrounding MSG, I feel there is enough significant research to be wary. Err on the side of caution by limiting your intake as much as possible, particularly if you are battling ill health. The cumulative effect is also something to be considered, particularly in our children who have a smaller body mass.
Symptoms after consuming may be:
Headache
Flushing
Sweating
Face pressure or tightness
Lack of feeling (numbness), tingling or burning in the face, neck and other areas
Quick, fluttering heartbeats
Chest pain
Feeling sick (nausea)
Weakness
Health issues linked to MSG:
fibromyalgia
obesity
fatty liver
high insulin and blood sugar
high cholesterol
metabolic syndrome
high blood pressure
disturbances in the gut-brain connection
neurological and brain health issues
A PubMed study says "toxic effects include CNS disorder, obesity, disruptions in adipose tissue physiology, hepatic damage, CRS and reproductive malfunctions."
Peter Taubert in his book, 'Your Health and Food Additives', says MSG is an excitotoxin and has been linked to the onset of dementia. When excitotoxins reach the neurons they cause them to become overstimulated. If overstimulated too much, the neurons die. In other words, they kill our brain cells.
He also says "pregnant women should definitely avoid all products containing MSG as the human placenta concentrates MSG so that the foetus may receive a proportionately higher dose than the amount the mother consumed".
What are other names for MSG?
Most people know to avoid any numbers in the 620 range but there are so many more names for MSG that you may not know about. Here are some:
Glutamic Acid (E 620)2
Glutamate (E 620)
Monosodium Glutamate (E 621)
Monopotassium Glutamate (E 622)
Calcium Glutamate (E 623)
Monoammonium Glutamate (E 624)
Magnesium Glutamate (E 625)
Natrium Glutamate
Yeast Extract
Anything hydrolyzed
Any hydrolyzed protein
Calcium Caseinate
Sodium Caseinate
Yeast Food
Yeast Nutrient
Autolyzed Yeast
Gelatin
Textured Protein
Soy Protein Isolate
Whey Protein Isolate
Anything :protein
Vetsin
Ajinomoto
It goes without saying that I do not add MSG in my products. They are just made with real food, fresh bones, vegetables, herbs and spices. You can find out more about my broth ingredients here.
It is possible to have flavourful food, without MSG! Choosing real food, minimally processed foods and checking ingredients is a good start.
I would love to hear from you. Does MSG make you unwell? Do you avoid it?
 Sources:  Changing Habits, Peter Taubert, PubMed Central, Life Spa