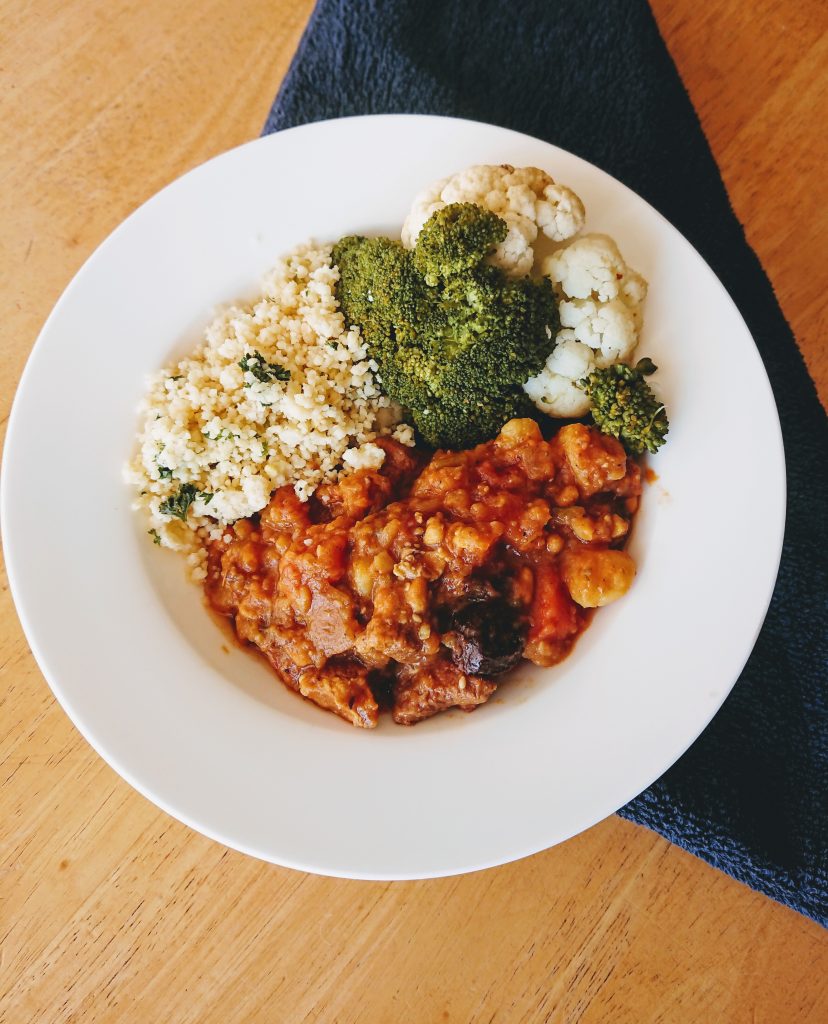 Nourishing Moroccan Lamb Bowl
I love a good slow-cooked dinner and this Nourishing Moroccan Lamb Bowl hits the spot every time! The flavours have a chance to develop and the meat gets beautifully tender.
This recipe is a comforting and nourishing pot of goodness using lamb and delicious Moroccan spices for something a bit different.
I use my large Le Creuset casserole pot for making this and it's perfect. However, you could cook off all the ingredients in a fry pan and then add to your slow cooker if you don't have a suitable large pot. You will need to reduce the liquid a little and it will take approximately four hours on high or eight hours on low, depending on your slow cooker.
I serve this with couscous as a traditional accompaniment and my Garlic Cauliflower and Broccoli.
Use my chicken bone broth powder made up with water or just chicken bone broth if you have any. It's a great way to add in a extra immunity building nutrients.
This recipe makes around six serves and it freezes really well, so there is plenty for leftovers.
Nourishing Moroccan Lamb Bowl
Ingredients
1 kg lamb, diced
1-2 tablespoons mild olive oil as needed
1 medium onion, sliced
5 cloves garlic, crushed
200g canned chickpeas, drained
1 small sweet potato, chopped
1 stick celery, chopped
2 carrots, chopped
1 cup dried apricots, cut into small pieces and rehydrated in boiling water
¼ cup raisins, soaked with apricots
1 pinch saffron
½ teaspoon turmeric
½ teaspoon coriander
¼ teaspoon cumin
¼ teaspoon cayenne
½ cup toasted almond slivers or ¼ cup pine nuts
1 pinch dried rosemary
¼ teaspoon oregano
¼ teaspoon black pepper
¼ teaspoon salt (or use my chicken broth salt)
1 handful of parsley (save stalks)
2 tablespoons chicken broth powder made up with 2 cups water (or use 2 cups chicken broth)
¼ cup white wine
Instructions
Brown seasoned lamb on a medium high heat in a mild olive oil in small batches and set aside
I use my cast iron Le Cresuet for easy one pot cooking but any large heavy based stock pot will work.
Add carrots, onion and celery to the pot and fry off gently over a medium heat for a few minutes.
Add extra olive oil if needed but you should have a bit of lamb fat and olive oil left over.
Add the crushed garlic and cook for thirty seconds.
Deglaze the pan with white wine.
Add the sweet potato and chopped parsley stalks and cook briefly.
Add the lamb, raisins, chickpeas, apricots. nuts and chicken bone broth.
Add in the spices.
Bring to the boil and then reduce to a simmer.
Slow cook for approximately 2-3 hours with the lid on.
Top with the chopped parsley.
Serve with couscous and steamed vegetables.