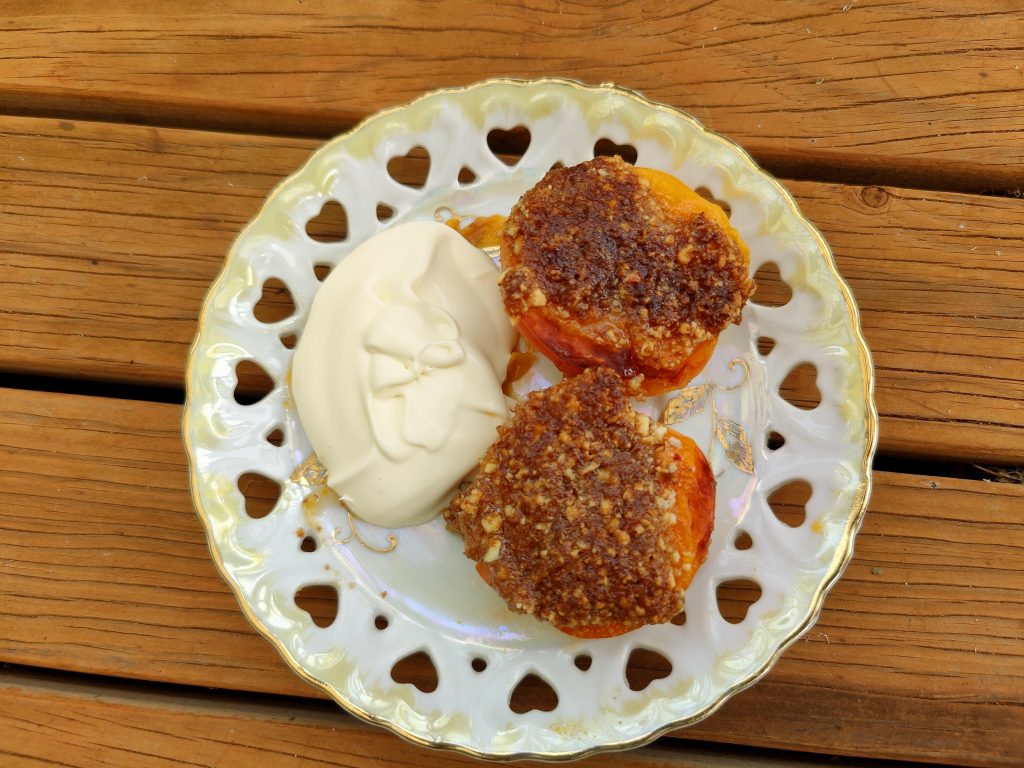 Roasted Apricot Crumble
This Roasted Apricot Crumble recipe is a really quick and fuss free way to make a crumble.  You can have a yummy dessert on the table in next to no time!
I've been taking advantage of the abundance of beautiful stone fruit this summer. If you don't have apricots, try peaches. Even plums and nectarines would be nice too with just a bit less cooking time as they are a softer fruit.
The almond topping is a great way to make a crumble gluten free. You could use any nuts you happen to have in the pantry, but the almond flavour is beautiful with apricots.
To make this recipe even quicker, you can cook it in an air fryer. They are so popular these days. I have had mine for five years and I love it. It saves heating up the oven for small amounts of food. If you would like more ideas for the air fryer, let me know! I would be happy to share.
I serve my Roasted Apricot Crumble with lots of double cream but ice cream, yoghurt or mascarpone would also be lovely.
Let me know if you give this recipe a go – take a photo and tag me on social media. I would love to know what the family think.
You might also like to try my bread and butter pudding recipe.

Roasted Apricot Crumble
Ingredients
6 fresh apricots, halved and stone removed
½ tablespoon butter
¼ cup almonds
2 tablespoons coconut or rapadura sugar
Instructions
Grease a small pie dish.
Pulse together the almonds, butter and sugar in a food processor until it resembles large crumbs.
Or you could just chop the nuts finely and mix well with the butter and sugar.
Place halved apricots into the dish, with the inside facing up.
Spoon the crumble mixture over each evenly.
Bake in a medium oven 15-20 minutes or air fryer on 180oC for 10 mins.
Serve with lots of double cream.