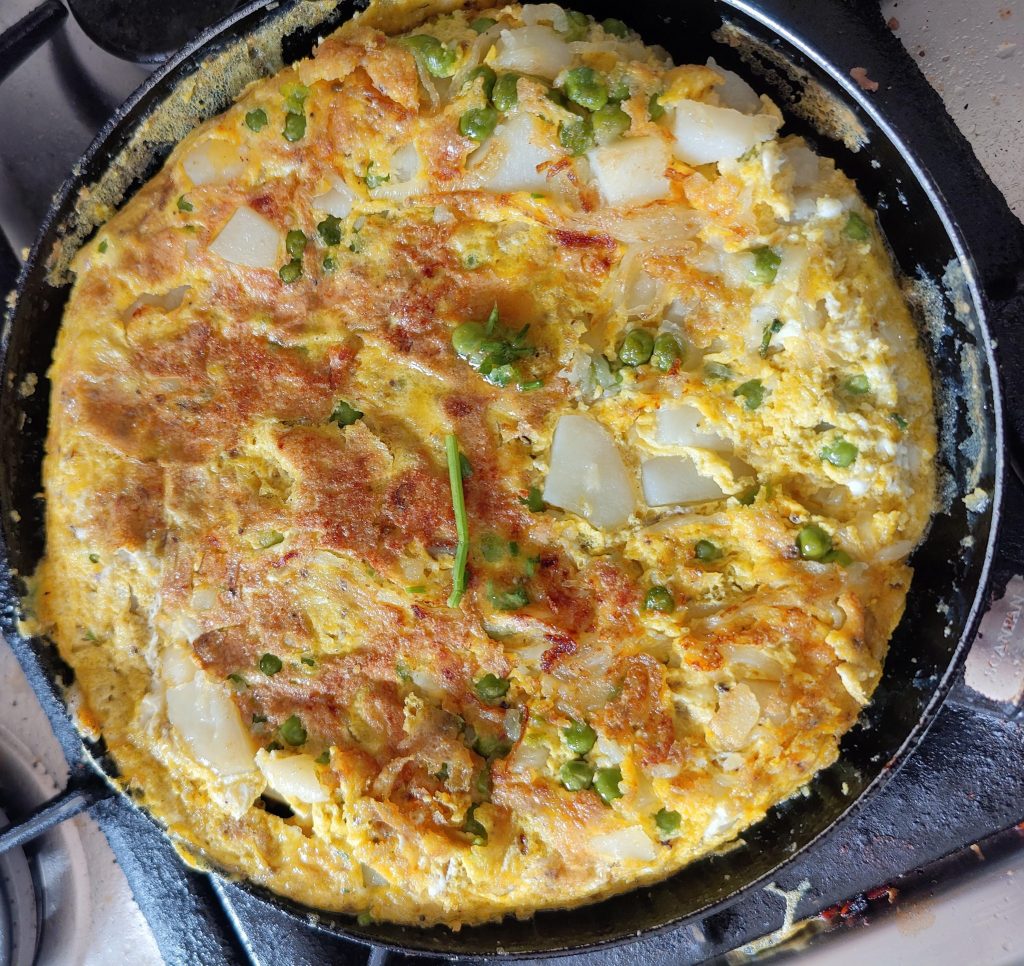 Easy Spanish Tortilla
The whole family loves this delicious and easy Spanish tortilla recipe!
It's so great for a quick meal, particularly when you have an abundance of eggs or are looking for a budget-friendly, vegetarian idea. Real food is so easy once you have a few basic recipes like this!
If you don't feel confident flipping the tortilla, you can always finish it off under your oven's grill – only if you have an entirely heat-proof frypan though!!
It's delicious served hot for an easy dinner or Sunday lunch with some salad. The leftovers are also really good cold for a substantial and healthy protein-filled lunch. Try it in the kids' lunch boxes!
You can find more lunch box friendly recipes and ideas in my Sandwich Free Packet Free Lunch Box book.
The Vegetable Broth Powder and Vegetable Broth Salt adds extra nutrients and gives it a lovely depth of flavour.
Feel free to experiment and add in any fridge scraps that might need using up! Capsicum and chorizo are traditional Spanish-style ingredients and work really well.
Easy Spanish Tortilla
Ingredients
450g small white potatoes
1 medium onion
1 clove garlic, crushed
½ cup peas, fresh or frozen
6 eggs
2 tablespoons olive oil
1 tablespoon Vegetable Broth Powder
½ teaspoon Vegetable Broth Salt
freshly ground pepper to taste
Instructions
Peel and slice potatoes thinly or you can cut into small cubes.
Par boil in salted water until just tender and drain.
Slice onion into thin slices.
Heat olive oil in a medium sized frypan and on a medium-low heat, fry onions and garlic until soft.
Whisk together the eggs, Vegetable Broth Powder, Vegetable Broth Salt and pepper.
Add peas and drained potatoes to the frypan and then the egg mixture.
Cook very gently, approximately 6-9 minutes until the mister is almost set.
Place a plate upside down over the pan.
Let the tortilla fall onto the plate and gently add back to the pan (turning it over).
Cook for a further 3-4 minutes until the underside is gold brown.
Serve immediately in generous wedges or cool down and use for lunches.