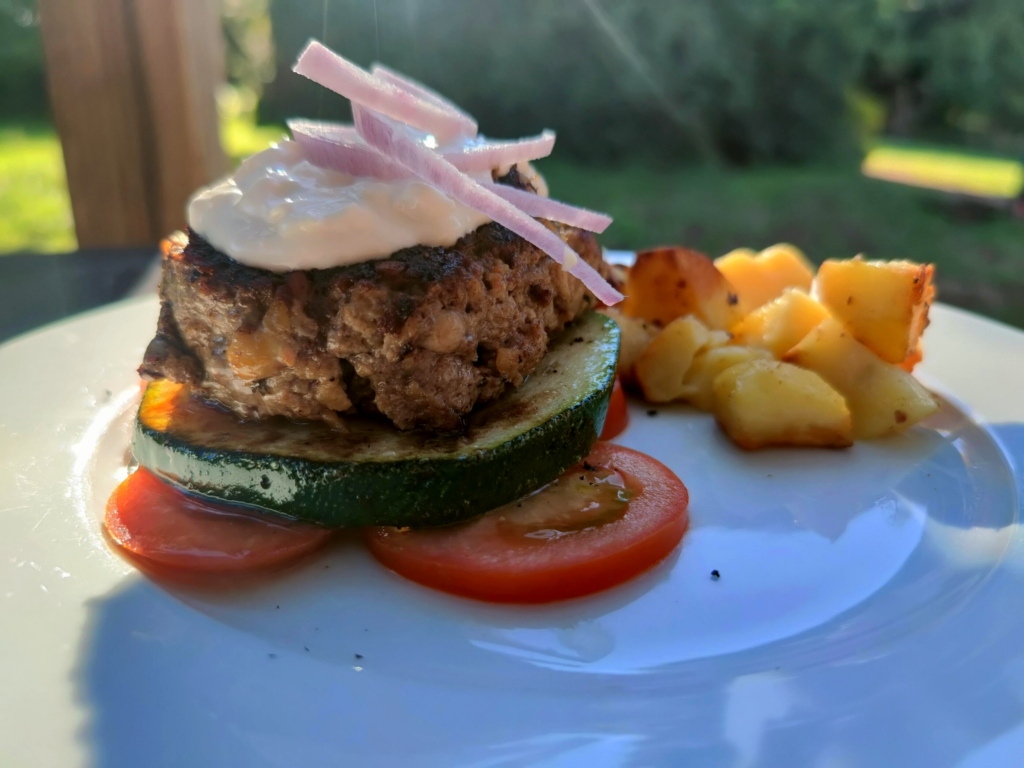 Greek Chickpea and Beef Rissoles with Yoghurt Sauce
I usually only use chickpeas with chicken or lamb but I was inspired by a recipe in the Eating Well magazine to combine them with beef. The results were delicious, so here is my Greek Chickpea and Beef Rissoles with Yoghurt Sauce recipe!
Chickpeas are a great source of protein and nutrients. Choose a canned variety that is organic and has a BPA free can to avoid toxins. Using chickpeas stretches out these rissoles and makes the meat go further, which is always good if you are on a budget.
I use grass-fed beef from local farmers that care for their animals and avoid toxins.
Why water in rissoles?? Well this is great tip! The cold water helps distribute the seasonings better and it helps the meat stay juicy.
I have served these rissoles on a fried zucchini steak and fresh tomato slices with my Olive Oil Potatoes on the side.
They would also be delicious served in a pita bread with loads of salad and the yoghurt sauce or with my Briami vegetable bake.
You could also cook these rissoles in the air fryer if you wanted to. Make extra because they are great to have cold with lunch the next day.
I have used my BBQ Beef Broth Rub and Beef Broth Powder in this recipe. For more recipes and ideas using my broth rub, click here.
Greek Chickpea and Beef Rissoles with Yoghurt Sauce
Ingredients
1 cup drained canned chickpeas
500g beef mince
1 tablespoon Beef Broth BBQ Rub
1 teaspoon Beef Broth Powder
½ tablespoon chopped mint
1 tablespoon chopped oregano
2 tablespoons cold water
2 tablespoons extra virgin olive oil
Pepper to taste
YOGHURT SAUCE:
½ cup Greek yoghurt
1 tablespoon lemon juice
¼ cup fetta cheese
Instructions
Mash the chickpeas using a fork with one tablespoon of the oil.
Add the rest of the ingredients and combine thoroughly.
Shape into rissoles.
Heat a frypan to medium high and cook on both sides until they are how you like them.
YOGHURT SAUCE:
Use a food processor to mix (or you can mash the fetta with a fork and combine).