BBQ Rub – But Make it Healthy!
This McCormick's product caught my eye at the supermarket the other day. Out of interest, I turned over the pack to check the ingredients for a comparison with my Beef Broth BBQ Rub.
Here they are: Sugar, Salt, Spices [Smoked Paprika, Jalapeno (2%), Black Pepper, Aniseed, Cloves], Garlic, Mustard Flour, Molasses (Contains Wheat), Onion (3%), Soy Sauce (Contains Wheat), Smoke Flavours (4%) (Contain Barley), Anti-Caking Agent (551), Vegetable Gum (415).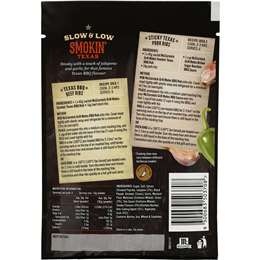 The issue with many spice rubs is that apart from the artificial ingredients, is that they bulk them out with refined white sugar and salt. In this particular one, you get 35.7g of sugar per 100g!
Don't get me wrong, I do use a little coconut sugar in my Beef Broth BBQ Rub to get a good flavour combination but my main ingredient is beef broth powder.
My ingredients: Beef Broth, Himalayan Salt, Sweet Paprika, Smokey Paprika, Coconut Sugar, Ground Cumin, Oregano, Sage, Thyme, Tarragon, Onion Powder, Garlic Powder, Chilli Flakes.
I only use pure, real food ingredients. Using bone broth powder as a base, you are also getting a load of nutrient dense goodness. There are never any fillers, no artificial flavours, colours, preservatives or additives! I also try to source everything I use as local as I can as the first priority.
Spice rubs can be a source of hidden gluten and soy for those with allergies or intolerances. Who would expect soy sauce or barley in a spice rub?? You really do have to read all the ingredients, all of the time!
So, if you are looking for all-natural, real food spice rubs, you know who to come to (hint, it's me, not the supermarket!!) 😀
I absolutely love making real food versions of processed foods! Have you seen my Healthy Chicken Salt?
There are so many yummy ways you can use my Beef Broth BBQ Rub in your cooking! It's a quick, easy way to add instant flavour without any weird artificial stuff in your food.
Naturopath Iwa Brown from Magnolia Naturopathy, left a great review for the Beef Broth BBQ Rub:
"This is my go to product for sprinkling all over chicken pieces and roast veggies, for a beautiful burst of flavour. It's made with high quality ingredients, which is really important to me."

Have you tried it yet? What do you use it on? Let me know!