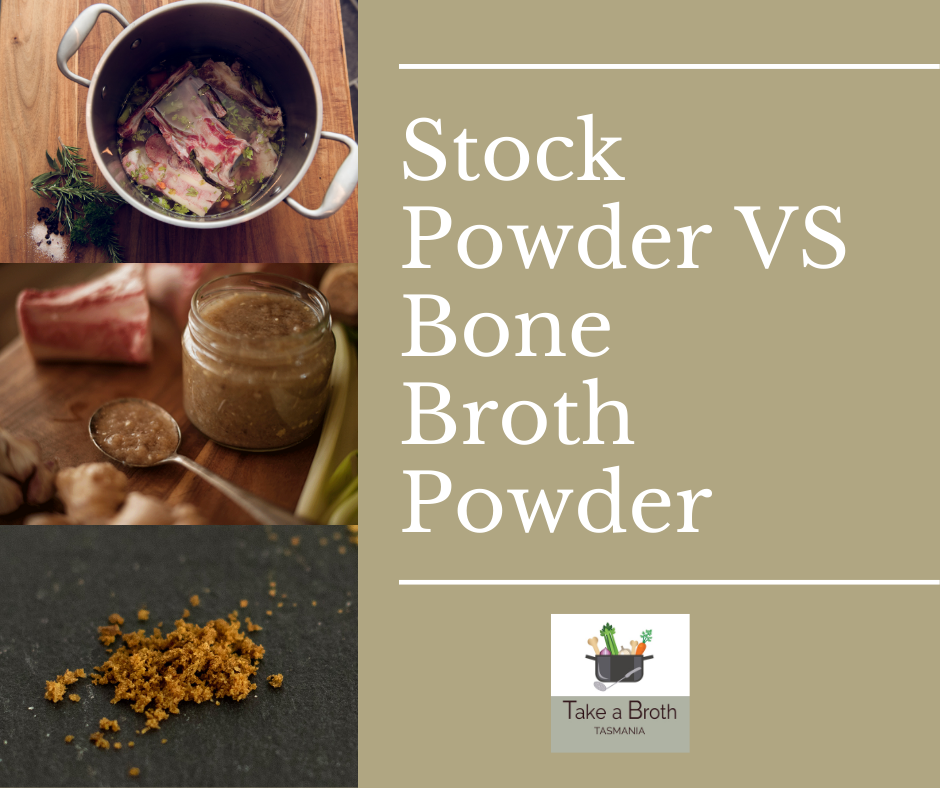 Stock Powder VS Bone Broth Powder
There's no question that stock powder or stock cubes are a real time-saver in the kitchen when preparing meals that call for stock. No need to source ingredients, cook for hours, strain and cool. Just dissolve in some hot water and off you go!
However, the vast majority of stock powders and cubes contain a whole host of ingredients that don't even resemble real food. In fact, some can be harmful to our health.
There are many things to consider, including the quality and origin of the meat bones as well as the fillers and additives used to make the stock powder and cubes more flavourful.
Here are some popular stock powders you can find in the supermarket: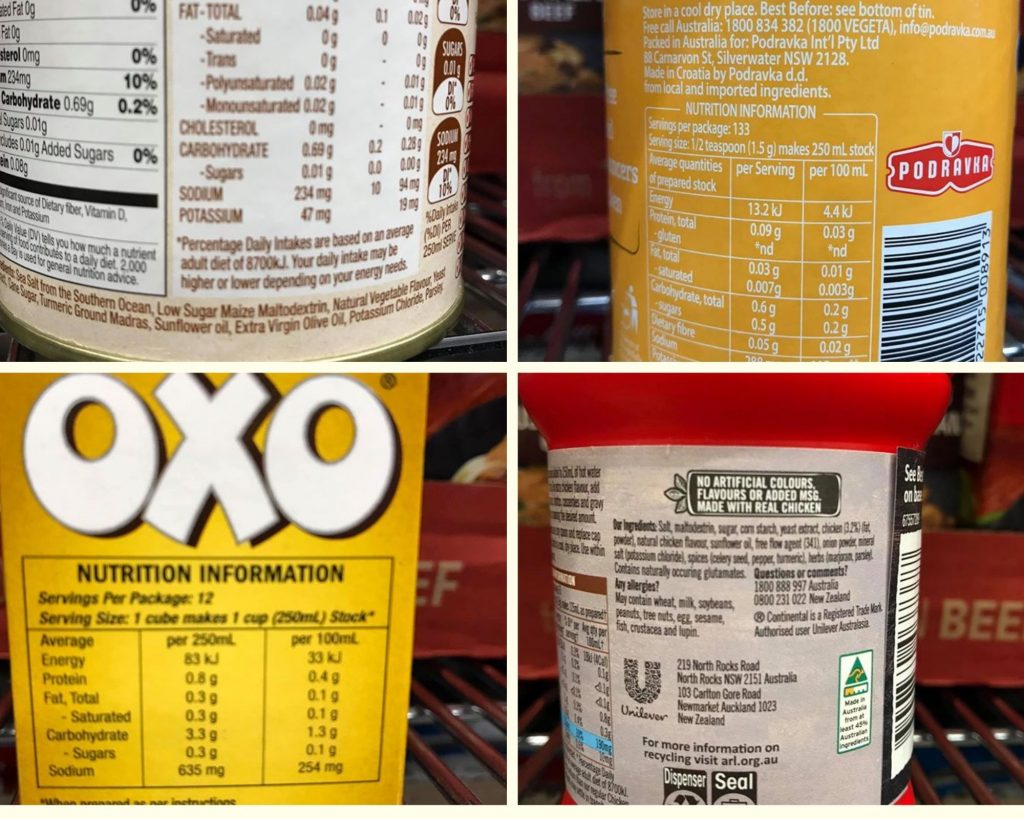 Lets have a look at the ingredients of a couple so you can get an idea of what is actually in them.
OXO Chicken Stock Cubes (made in the UK from local and imported ingredients)
Ingredients: Wheat flour, salt, dried glucose syrup, flavour enhancer (621), yeast extract, flavouring, chicken fat (3.4%), potato starch, sugar, chicken extract (2%), onion extract, colour (150c).
Massel Chicken Stock Powder (made in Australia)
Ingredients: Southern ocean sea salt, maize maltodextrin, cane sugar, yeast extract, natural vegetable flovours, dehydrated onion, canola oil, extra virgin olive oil, turmeric ground madras (colour).
Vegeta Chicken Stock Powder (made in Croatia from local and imported ingredients)
Ingredients: Salt, sugar, dehydrated vegetables 11.7% (celery, onion, carrot, garlic, parsley leaves), maltodextrin, maize starch, yeast extract, spices, flavour (chicken), extra virgin olive oil, dried chicken meat extract, colour (caramel I).
Continental Chicken Stock Powder (made in Australia with local and imported)
Ingredients: Salt, Maltodextrin, Sugar, Corn Starch, Yeast Extract, Chicken (2.8%) [Fat, Powder (Contains Wheat, Milk, Soybean And Egg), Natural Flavour], Free Flow Agent (341), Onion Powder, Spices (Celery Seed, Turmeric, Pepper), Herbs (Marjoram, Parsley). Contains Naturally Occurring Glutamates, sunflower oil.
Did you know that yeast extract is a type of MSG? If you want to read more about the additives in stocks powders, Frankie from Additive Free Kids has a great article where she reviewed 7o stocks!!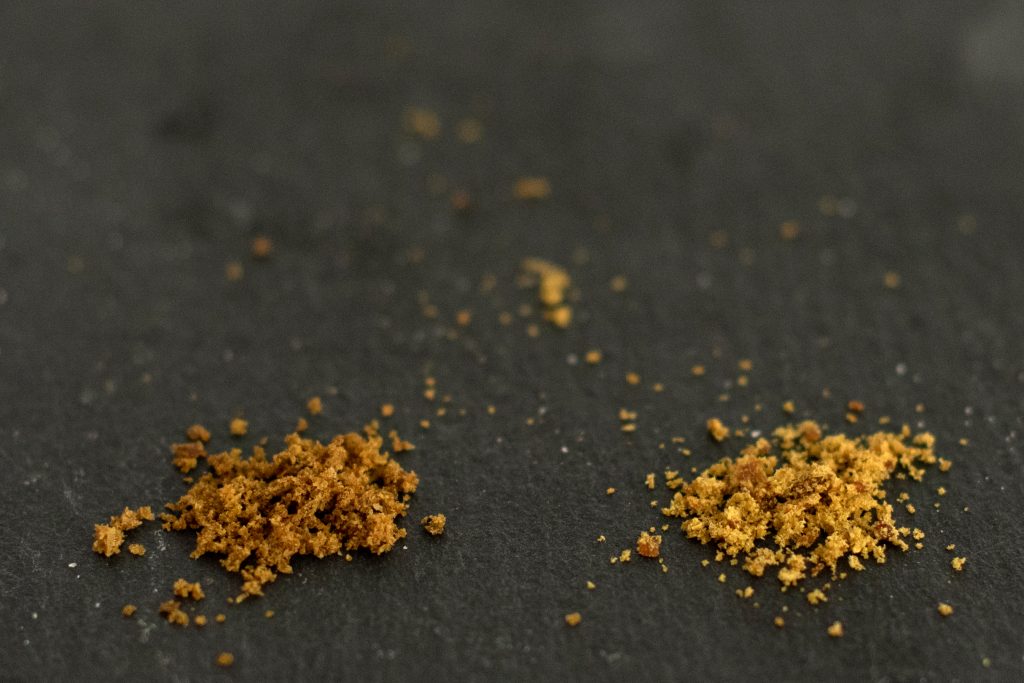 Here are the ingredients in my hand-made Take a Broth Bone Broth Powder:
Bones (Grass Fed), Filtered Tasmanian Rainwater, Carrots, Celery, Onion, Garlic, Bay Leaves, Seaweed Mix (Tasmanian Wakame,  Tasmanian Kelp), Juniper Berries, Tasman Sea Salt, Tasmanian Pepperberry.
These ingredients are the reason I wanted to make my bone broth into a powder. All the amazing benefits of real, local, whole food bone broth, with the convenience of a stock powder but without all the added fillers and nasty additives.
My bone broth powders have a very subtle flavour as I don't add excess salt or flavour enhancers like MSG. The purpose of stock powders is to add flavour but the purpose of bone broth is to provide healing and nourishment.
Most people will add a few things to their cup of bone broth, like a little more salt and pepper or a squeeze of lemon juice so it's just right for their taste buds. I would love to hear what you add to yours!
I'm so proud to be able to provide families with a better option for their health and wellbeing with my bone broth products!