Description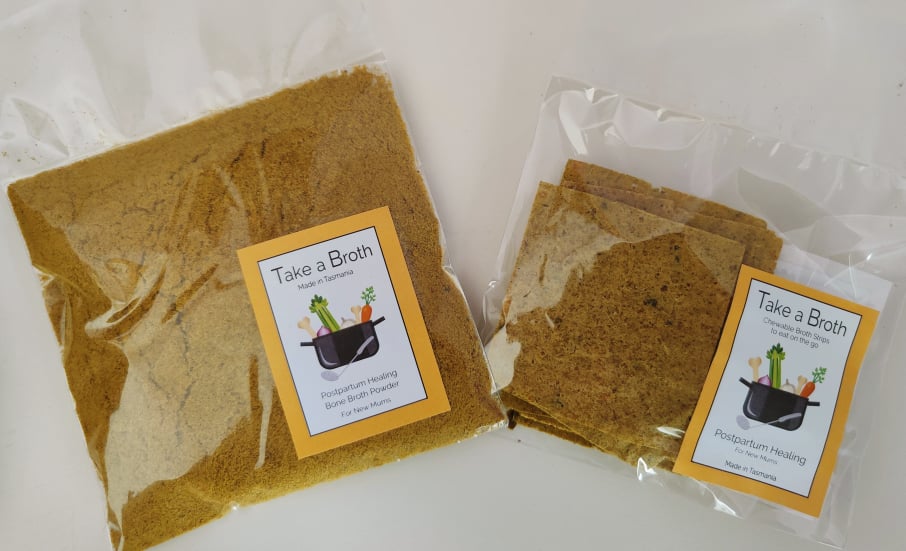 Postpartum Healing Bone Broth
Our best-selling range of bone broth powders and strips now include a Postpartum Healing Bone Broth especially for postnatal mums!
Bone broth is a very old and traditional healing remedy for postnatal mothers. We have made a specialist broth recipe, full of nourishing ingredients specifically designed for new mums. The broth has herbs and spices that will help with healing, digestion and milk production in addition to the amazing benefits of broth.
Find out more about why this Postpartum Healing Bone Broth is the ultimate healing elixir for new mums.
We have the Postpartum Healing Bone Broth in both dehydrated powder and strips (choose your option from the drop-down menu).
Our broth products are packed full of goodness, ethically produced and super convenient for postpartum mums to get a nourishing broth with minimal time, effort and preparation. 

We are a small artisanal business and hand make, process and package your broth in small batches in North-West Tasmania.
You may notice inconsistencies in colour due to the seasonal nature of the produce. Ingredients are sourced ethically from local farmers. You can find out more about the ingredients here.
Allergy notice: This product is manufactured using shared facilities. Nuts and dairy may be present.
Postpartum Healing Bone Broth Ingredients:  Chicken Bones, Filtered Tasmanian Rainwater, Carrot, Celery, Ginger, Silverbeet, Spring Onion, Shiitake Mushrooms, Goji Berries, Herbs, Spices, Tasman Sea Salt.
How to use:  Powder: Add one teaspoon to a cup of boiling water and drink as is or use in your cooking.  Strips: Simply chew and eat a strip as needed. No preparation necessary.
Broth Powder: each pack contains 23 serves.
Broth Strips: each pack contains 10 strips. 
Frequently Asked Questions
Is the Bone Broth organic?
Take a Broth bone broth powder is not certified organic. We can assure you that all the ingredients are sourced locally, here in beautiful Tasmania, with the exception of the Juniper Berries.
Our bones are premium, local and grass fed. The ingredients are ethical, sustainable and where possible organic or spray-free. Read more
here.
Is Take a Broth gluten and dairy free?
The broth ingredients are all gluten, dairy and additive/preservative free but they are processed using shared equipment which may come into contact with some known allergens.
Do you have a vegan broth option?
Yes we offer a vegan broth powder and strips.  We have dedicated machinery for the vegan option.
How do I consume Take a Broth?
Add hot water and stir for a tasty bone broth to drink.
What are the benefits of Bone Broth?
Check out the 
blog
for loads of information!
Is Take a Broth a meal replacement?
Take a Broth bone broth powder is not intended to be a meal replacement but if you are fasting it is handy to get you through the fasting period.
How do I store Take a Broth?
The packaging is biodegradable so please, once opening pop the broth into an airtight container or a glass jar.  We pack it in compostable cellulose to save shipping costs and impact.