Woot woot, I have finished my first EVER fitness challenge!
For those who know my story, it was a massive deal for me to sign up, let alone do the challenge.
For the past 8 years, I have been too frightened to push my body any further than a walk/slow jog & my once a week yoga class. In 2015, I wrote a blog about my struggles (you can read that here.)
Since I wrote that blog, I have made a commitment to walk every single day. In 2017, I walked/slow jogged for a local 10km road race with my childhood friend (you can read about that here).
The thing is, I pushed myself really hard during that race, and it caused a minor set-back physically, which took a good two weeks to get over. I went back to the daily walks as I didn't want to overdo it.
One quote I remember from my workers comp report & from one of the Dr's I saw during the fraudulence campaign was that: ' I was an accident waiting to happen'  He then guessed my weight which was a whopping 13 kgs over & said I lived an inactive lifestyle (bastard!!)
About 3 months ago, I met Christine (who now owns the gym!) at the Providore Place Market (my shopfront most Sundays).  She was set up next to me and we got talking over the markets about life.  She talked about her gym life with so much energy & enthusiasm, it got my brain cogs churning again.
So, I signed up!!! I was going to do a 10 Week Fitness Challenge for Women!!
I still don't believe it!!
The hardest part of the challenge was walking through the front door on that first day.  I was thinking "what on earth am I doing here?".  But looking around, I saw that all the women were calm, friendly & encouraging. How lucky was I to find this?
On the first week, I went to one class only… hey, I had to ease into it slowly. Eloise was my first instructor & she had to show me every exercise, every time (both instructors had to as my body & brain are not quite in sync with it all yet).
The second week I had two lessons, and the third week, it was three lessons. I dosed up highly on my bone broth & magnesium & honed in on my diet. (You can read more about the bone broth here.)
By Week 6, at three classes a week (plus my doggy walks & yoga class) I was starting to feel invincible.  At the end of the sixth week I was feeling so good (although a tad sore from exercising), so, I pushed myself that little bit further and went for a run………
You guessed it, I injured myself.  I strained my Achilles.  I could barely apply pressure for a few days & I didn't go to class for the next week.
Week Eight arrived and I hobbled back, strapped & bandaged to the hilt, confessed I had over done it & concentrated only on my upper body.
By the start of the 10th & final week I was gently going back into pushing the limits again.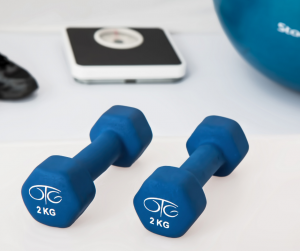 Then it was testing day:
Well hey, I didn't lose any weight (in fact I gained 3.2kg)
I did lose a few cm's though, & I did increase my general fitness.
I feel much stronger and can throw around my heavy broth pots a lot easier.
I am not scared to exercise any more.
I bended & healed quickly & I didn't break!!
I decided I wasn't finished with the challenge. So, I took it back on again.
I'm now two weeks into this next challenge.
The first one was a trial.  This one… I will smash it.
It is game on from now.
The scary part has been conquered.  I am now enjoying the rewards.
Flooding my body's cells with extra oxygen & fitting in the last piece of the puzzle with adding in the exercise.
Do it… we all have to start somewhere.
Just make that first step.
Cheers Christine & Eloise!!
Micheline
X
ps If any locals  in NW Tas are looking for the challenge, the FB pages are: