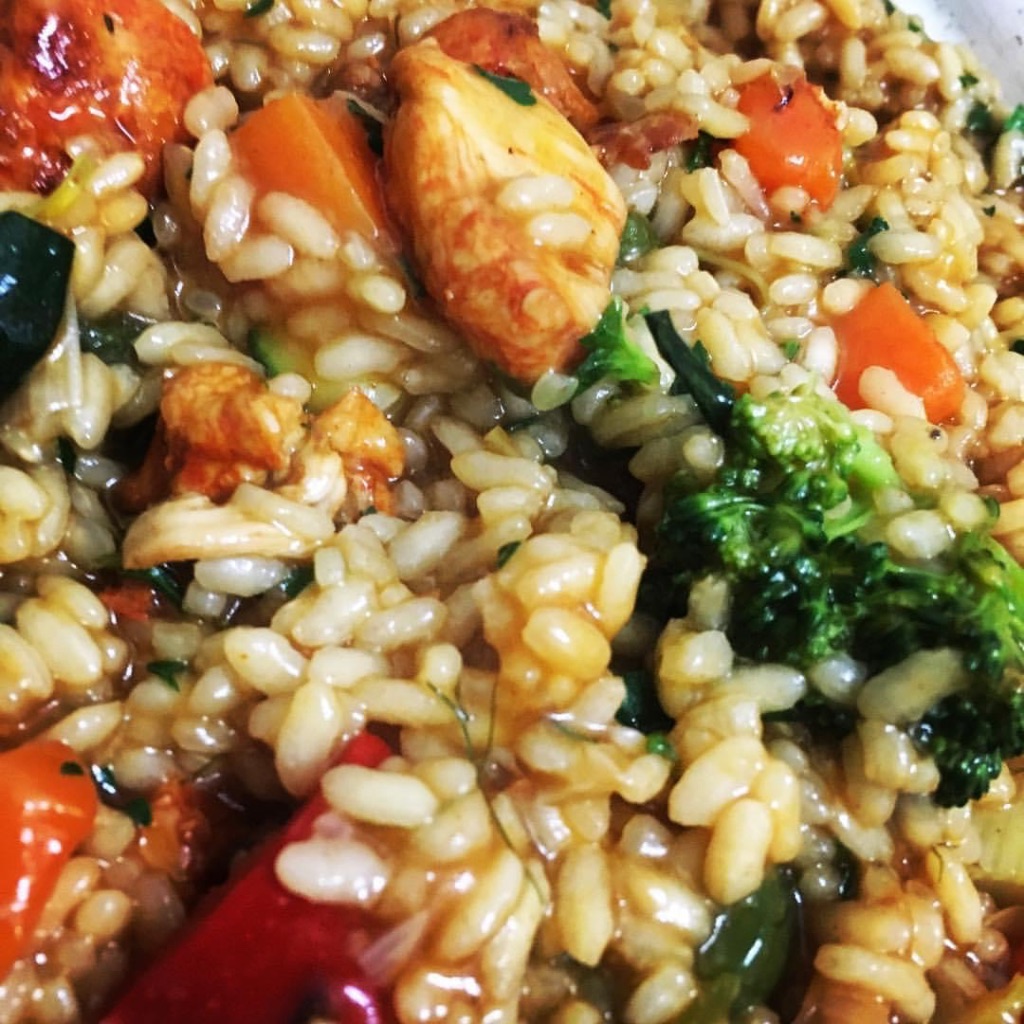 Chicken and Summer Vegetable Risotto
I am so thrilled to welcome Sonia Gulwadi to the blog today to share her delicious Chicken and Summer Vegetable Risotto recipe with us.
This risotto is an easy way to incorporate bone broth into your diet as well as a generous serve of vegetables.
Sonia is a nutritionist at Zoetic Health in Glen Iris, Melbourne.
Sonia had a career as a chef, with the heat and bustle of the kitchen endured for years. Her desire to know about every ingredient, and to understand the relationship between people and food, provided an endless source of learning and wonder (and perhaps a dash of frustration and exhaustion).
Through this path and that of studying nutritional medicine she has developed a passion for stress related illness, and how it impacts long term health.
Follow Sonia on Facebook or Twitter to keep in touch or send an email info@zoetichealth.com.
Chicken and Summer Vegetable Risotto
Ingredients
1 litre Chicken Broth (use 5 tablespoons Take a Broth Chicken Bone Powder to 1 litre of hot water)
2 tablespoons Extra Virgin Olive Oil
200 grams Red Onion (1 medium, finely chopped)
2 Garlic (cloves, minced)
200g Chicken Thighs (diced)
200g Arborio Rice
45mls Lemon Juice
40g Parmesan Cheese
3g Sea Salt (2 pinches)
½ Capsicum Red (chopped )
100g Frozen Peas (1/2 cup)
100g Carrot (1 small, chopped)
100g Broccoli (1/2 cup florettes)
200g Diced Tomatoes (1 medium)
¼ cup Parsley (chopped)
Instructions
Heat the broth in a medium pot over medium-high heat.
Once it starts to simmer, reduce heat to low to keep warm.
Meanwhile, heat the olive oil over medium heat in a large pot.
Saute the onions for 5 minutes or until translucent but not browned.
Add the garlic, chicken and half of the salt.
Cook for another minute.
Add the rice and lemon juice and gently stir until the lemon juice is absorbed.
Add ½ cup of the warmed broth to the rice in the pot stirring constantly until the broth has been absorbed.
The rice and broth should be at a gentle simmer throughout the cooking process, not a boil.
Add the carrot and peas and then continue adding the stock.
Continue to add the broth ½ cup at a time until all but a ½ cup of broth is
remaining and rice is cooked through.
Aim for al dente rice, not mushy.
This will take about 20 to 25 minutes.
Next, add the last ½ cup of broth along with the remaining vegetables and herb.
Add the remaining salt.
Continue to stir until the last of the broth has been absorbed.
Remove from the heat and stir in the parmesan cheese.
Season with additional salt or lemon juice as needed and then let sit with a lid on for 3 mins before serving to ensure the vegetables are heated through.
Divide between plates and enjoy.
Keep refrigerated in an airtight container for up to three days.
Top with additional parmesan cheese, freshly chopped parsley, basil, lemon zest or freshly ground black pepper.
If risotto has become too thick after stirring in the last of the vegetables, thin it out with two tablespoons of warm water at a time, until desired consistency is reached.