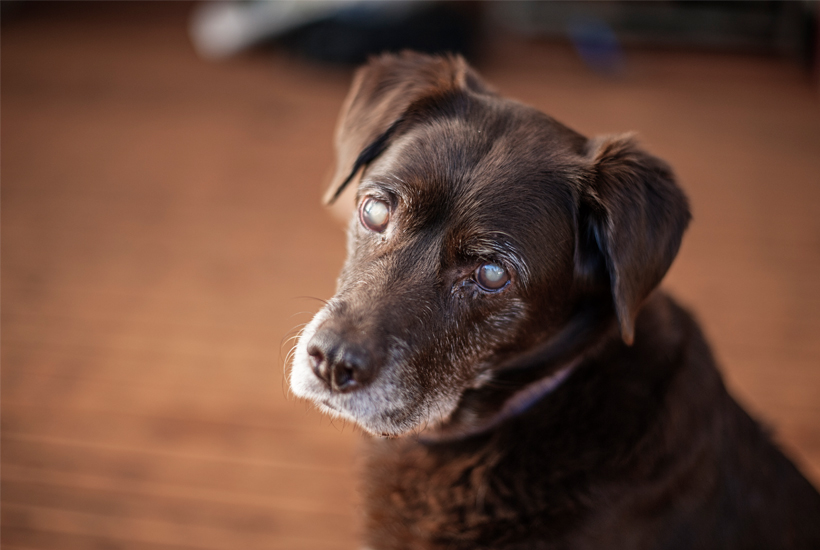 MEETING CHARLIE
We came across our fur baby, Charlie Brown, when she was 5 weeks old. My son was almost 4 and I was due to give birth to my daughter the following week. We went to a farm to look at purchasing a cot for my daughter that was advertised in the local paper.
Charlie was one of 7 puppies we found in a barn, munching on dried Weetbix. She had already been weaned by 3 weeks old as the mother was a working dog and they needed her for the farm. She was also the smallest of the litter. The 'runt'. Knowing that she had consumed barely any of her mother's milk we knew there may be problems for her in the future. What also convinced us to take her home was that we also had another doggy at home (Viva) a Springer Spaniel. It was like taking a 'fur-baby' home for her for when our 'people-baby' came along.
Charlie turned out to be an exceptional family dog, mentored by her step mummy Viva. She was so loving and so protective. We have a small hobby farm with a few cows and sheep. The cows were a little too friendly at times and ran towards us, looking for attention. This frightened the kids when we went for walks in the paddocks. Charlie was always there stopping them in their tracks and being the protector. She built up a beautiful loving relationship with my family. Both dogs were just like our children. They were right by our sides every day. They were a firm fixture in our family.
Viva passed away at almost 15 years of age, the same year Charlie and our daughter shared their 8th birthday.
Viva and Charlie (5 years) 2008 with her siblings x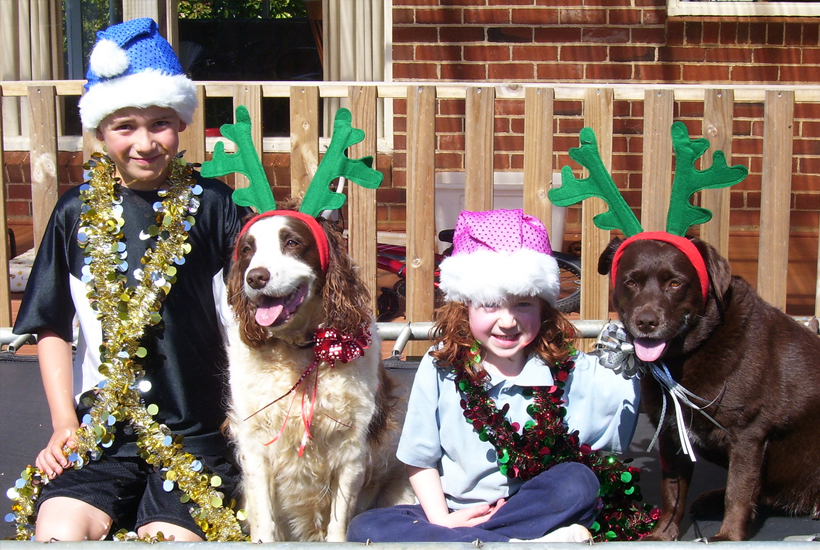 SOMETHING IS WRONG…..
It was soon after this that Charlie's health started to deteriorate. We initially thought that she may be pining for Viva as they were so close, however more serious signs and symptoms started to emerge and 3 ½ years ago Charlie was diagnosed with a pancreatic tumour, insulin dependent diabetes and a slipped disc in her back. After 6 months she lost her eyesight totally and her eyes clouded over. Although she was thin, she was very happy and there was no decision to be made apart from doing the very best we could for her.
6 months passed and her health continued to decline and she continued to lose weight. She was eating premium, 'top of the range', low-fat Vet Prescription dog food, specifically produced for dogs with diabetes. Her insulin levels continued to rise and had to have quite a few teeth extracted as she must have banged into something hard (being blind) and knocked them loose. Her prognosis was not looking good.
I kept thinking that if I could change my diet and that of my family for the better, then I could do it for my doggy baby as well.
Diet Change:
So we made the choice to stop feeding her the prescription range and I bought a grain free/corn free kibble. I also introduced bone broth (with added turmeric) into her diet. We commenced feeding her this combination twice a day. In the morning she had her kibble and 8 hours after her insulin injection she had a cup of bone broth (minus the onion and garlic). We added turmeric, a spoonful of chia seeds, a sprinkle of kibble and some cooked meat scraps.  She had some bones here and there, but, because of her missing teeth, she tended to give up on those quite quickly. I did try giving her the leftover broth bones but because they were 'empty' she wasn't too keen on them.
After we changed Charlie's diet, some small changes started to happen. She started to feel more energetic. Her body condition improved and her fur became shiny. It was then we decided she needed some extra encouragement. So, just like we had done for Viva, we went as a family and bought her a present….. a puppy!
.
ENTER WINNIE (THE POO)
Thus, Winnie came into our lives. She's a cross between an Australian Kelpie and a NZ Huntaway. Like Charlie, she is the runt of the litter and what a handful she has turned out to be! She is 2 and ½ now and she has proven to be a godsend for Charlie. Winnie instinctively knows that her job is to guide her. She stops her running into walls. Instinctively Winnie walks in front of her so that Charlie can follow. She even guides her to the back gate on her lead when we head out for our road walk. This is something Charlie looks forward to every day. The smells and scents she encounters on our daily walk stimulate her and excite her. We don't walk a long way, some days further than others. (I have a long term hip injury which gets in the way).
Winnie has a very mischievous side and is sometimes very naughty! She is far from a 'shining halo' wearing 'angel-dog'! She regularly tries to sneak into the kids' beds with them at night and sometimes she gets out through the gate and chases native hens or rabbits. But she is very loyal to us all. She even guides Charlie into the garden when she gets up for her nightly wee.
Charlie is now starting to show signs of dementia, an associated symptom of long term diabetes. She sometimes becomes lost in a corner of the house when she has a wander during the night and we need to direct her back to her bed in my room.
Inspiration:
Charlie has been a real inspiration to me personally. During the time she has been with us I had a work accident where I was out of action for some time. She had to avoid my metal crutches for 7 months. The noise they would have created and the stress that must have caused for her (as her other senses are more acute now that she is blind) must have been overwhelming at times. Even though I had help from my husband and children, it was so important for my healing to know that I had to get her out for her imperative daily walk.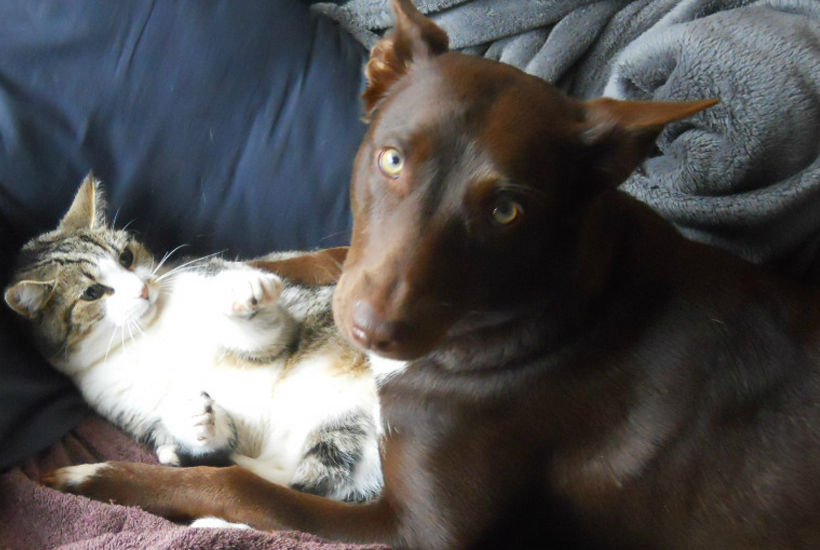 BONE BROTH, A HEALING ELIXIR
Bone broth has been there for both of us. Charlie's journey was the catalyst for me to start the business – "Broth of Life". The idea for the business began during my own health journey, but seeing what broth did for her made me realise I needed to get this amazing product out to others who would benefit from its healing properties.
18 months later I sold the business, however I still hold workshops to show people how easy it is to make broth and to explain the extensive health benefits. It's amazing how sharing our healing journeys can create passion and community connection.
We know Charlie's time is coming soon. We just want to make sure her last days are as happy as possible. As long as she still gets excited about her daily walks, still greets us with a wagging tail, happily eats her food and still comes for cuddles, we know her life is still satisfying.
We dearly love our Charlie girl, and as I finished typing this, I heard her run into a wall.
Note:  Sadly Charlie-girl was put to sleep in Dec 2016.  The time had come for us to make the decision.  As a family we made a pact that we would never want to see her suffer.  4 years of an extended happy life was worth it! RIP Charlie xxxx!
Update: 2020 is nearly over and we still have Winnie and now Stanley too. In memory of Charlie, I have just released two new bone broth products for dogs, Chicken Doggie Broth Powder and Doggie Broth Snacks. I know Charlie would approve.