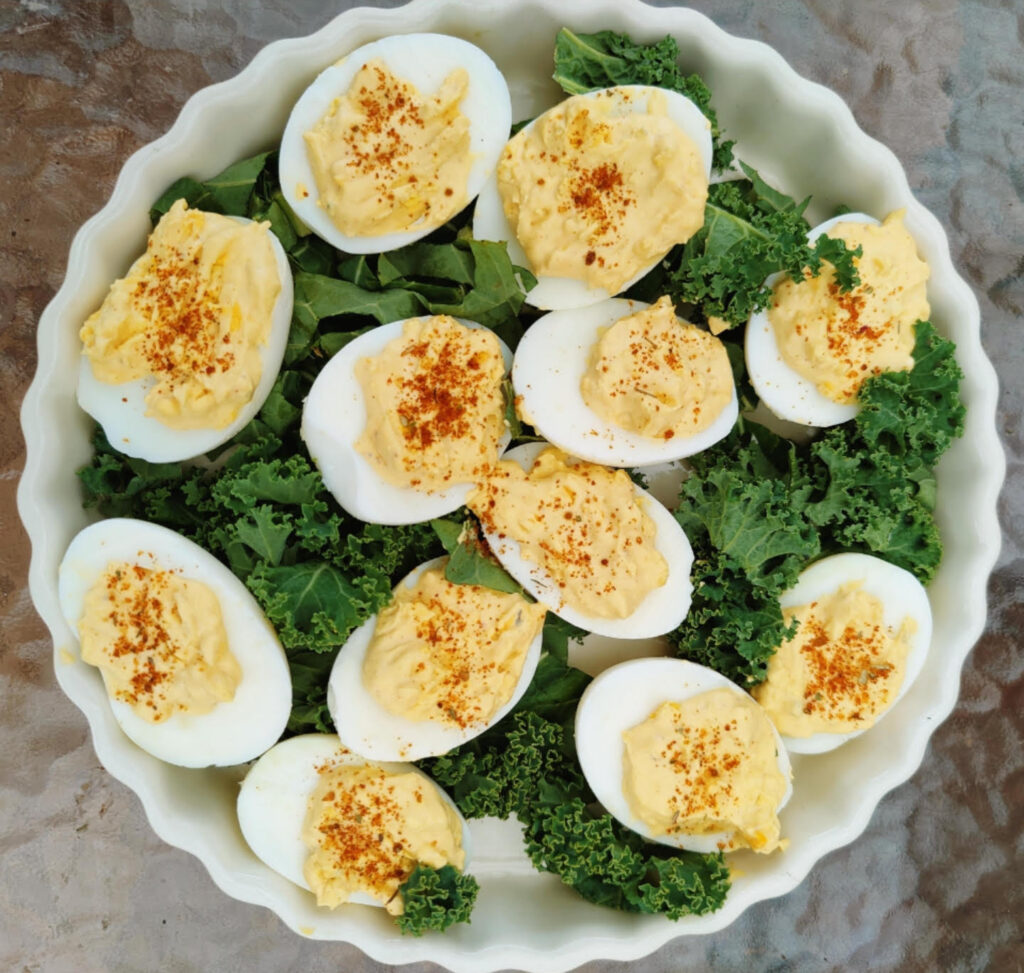 BBQ Devilled Eggs
Devilled eggs are one of those old-fashioned retro recipes we all remember from our childhood and wonder why we don't eat them more often because they are so delicious!! Try my BBQ Devilled Eggs for a new twist on an old favourite.
This recipe is my version of devilled eggs that is all real, whole food. I prefer using sour cream for it's slightly tangy flavour. Adding in my Chicken Broth Salt and Beef Broth BBQ Rub give you some extra nutrients and a new flavour profile on an old favourite.
If you want to great really fancy and serve them for guests, you can pipe the yolk mixture into the egg white halves with a piping bag and large star nozzle. I have served mine sprinkled with some extra Beef Broth BBQ Rub on a bed of chopped fresh kale and cauliflower leaves.
I also have a tip for getting the yolk more centred, if you want them to look extra special. All you do is lay the eggs on their side in a bowl overnight before you make them. It's not an exact science, but they do tend to cook with the yolk more in the middle than right on the ends!
BBQ Devilled Eggs make a really good budget-friendly option when you have to take a plate. Also good just to serve up as a snack or as part of a lunch buffet.
I would love to hear if you give them a go. I wonder what we could jazz up next – prawn cocktails or fondue anyone?
Devilled Eggs
Ingredients
6 eggs
¼ cup sour cream
1 heaped tablespoon Dijon mustard
½ teaspoon Chicken Broth Salt
½ teaspoon Beef Broth BBQ Rub
Instructions
Start off with the eggs covered with cold tap water in a saucepan.
Bring them to the boil and then boil for seven minutes.
Allow to cool by pouring off the boiling water and running cold water over them.
Crack eggs gently all over and then peel.
Cut eggs in half and then scoop out the yolk.
Place the yolk in a bowl with the remaining ingredients and mash together well.
Spoon back into the egg white halves.