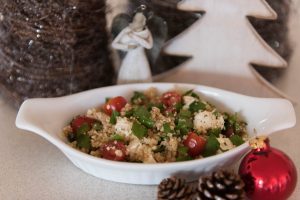 This recipe is from my new Bone Broth Basics cookbook!
An easy gluten free gut health recipe.
Perfect your Christmas salad range with the benefits of added bone broth!
Enjoy!
https://michelineandrews.com.au/product/bone-broth-basics-print/

Christmas Quinoa Salad (with added bone broth)
Ingredients
1 C quinoa
1 ½ cups broth (I used beef)
3 sprigs each of sage and parsley, finely chopped
2 eggs boiled, roughly chopped
½ red capsicum (pepper) chopped
1 spring onion chopped
¼ C kale and spinach (optional) finely chopped
1 carrot chopped
handful cherry tomatoes halved
feta or goats cheese
1 avocado chopped or can be decoratively placed on the side
juice 1 lemon
salt & pepper to taste
Instructions
Rinse/wash quinoa well under running water (unless it has been pre-washed).
Place into a pot with 1 ½ cups of broth.
Bring to the boil, turn right down to the lowest setting and let the remainder of the broth evaporate into the quinoa, may need stirring. Takes approx 5 mins (depending on the cooking element used).
Once no broth is left take off heat, fluff up with a fork and leave to cool.
Prepare your other ingredients.
Once cooled mix through remainder of ingredients, season with lemon juice and salt and pepper.