Description
Do you have memories of Grandma cleaning out the fridge with Vanilla Essence?
Introducing:
Culture Clean's Probiotic Fridge Fresh: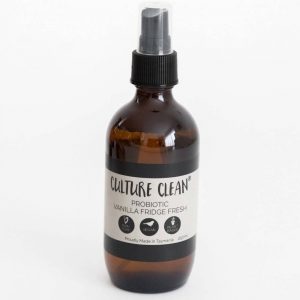 ~ Cultured Vanilla Beans
~ Food Safe
~ Low Odour
~ Power of Probiotics
~ Non-Toxic
~ Environmentally Safe
~ Free from parabens & synthetics
~ Palm Oil Free
How to use:  Spray inside on fridge surfaces.  Wipe off with a damp cloth.
The Vanilla scent will be underlying.  Not overpowering.
** Cuts through food stains
** The probiotics work to eliminate the harmful bacterial overgrowth.
Ingredients:  Vanilla Beans, Citrus Fruits, Soap, Filtered Tasmanian Rainwater, Cultures.
Proudly hand made in Tasmania