Description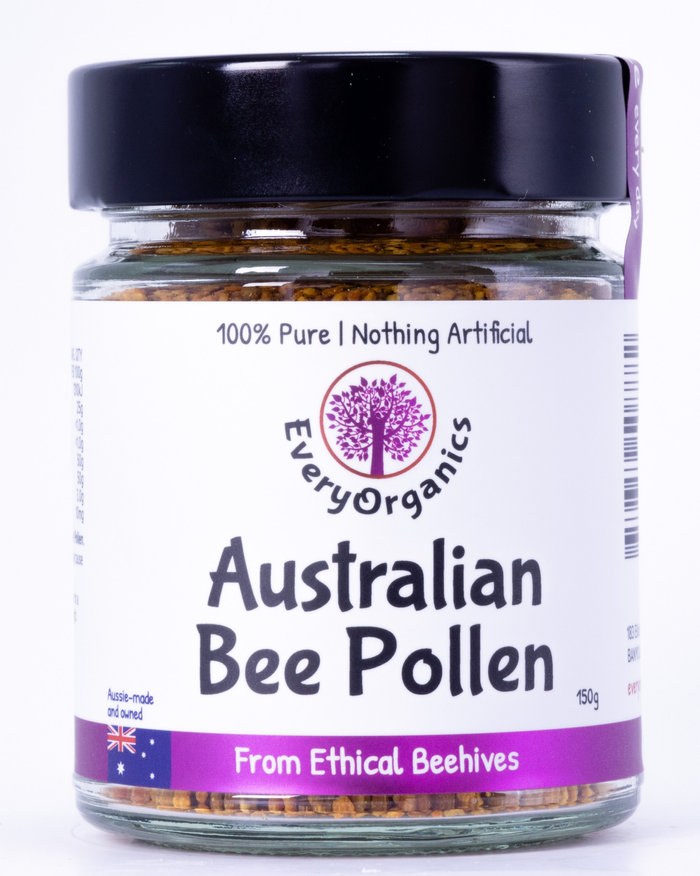 Australian Bee Pollen
150g
From the amazing woman behind EveryMite, comes the EveryOrganics range and I am thrilled to be stocking her Australian Bee Pollen.
Bee pollen is a ball of pollen made by young bees when they land on a flower. It's a mixture of pollen, saliva, and nectar or honey. Bees carry these balls back to the hive in sacs on their legs and store them in the hive's honeycomb. The pollen then ferments into "bee bread," which feeds a bee colony.
Beekeepers collect pollen from bees by keeping a thick comb in the entrance of their hives. When bees pass through it, it knocks the pollen off their legs into a collection bin below. The bees then must go out to collect more pollen.
What is Bee Pollen good for?
Bee pollen is considered so beneficial that the German Federal Board of Health recognizes it as medicine. Advocates are quick to tout the benefits of this so-called superfood, saying it can:
relieve inflammation
work as an antioxidant
boost liver health
strengthen the immune system
work as a dietary supplement
ease symptoms of menopause
reduce stress
speed up healing
Bee pollen in its natural form comes as small, crunchy pellets. One tablespoon of bee pollen contains:
16 calories
0.24 grams of fat
1.2 grams of protein
2.18 grams of carbohydrates
250 types of nutrients, including vitamins and flavonoids
How to use Bee Pollen
Sprinkle it on foods like yoghurt, bircher muesli, salads, raw treats, smoothies, granola and even juices. It's best not to heat the bee pollen.
How much Bee Pollen should you consume?
Adult 20-40 g or 3-5 tbsp. per day
Children 15 g or 1-2 tbsp. per day