Description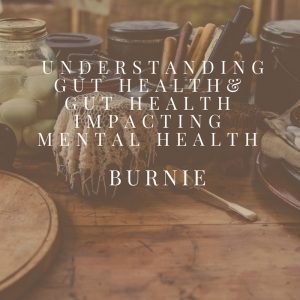 1st part: 'Understanding Gut Health' Presentation
2nd part: 'Gut Health Impacting on Mental Health'
Tickets $40 pp pre-paid or $45 on the door.
192 Wilson Street, Burnie (parking in side street and rear of building)
Saturday 22nd September 2018
1pm-330pm
Understanding Gut Health : An easy to understand presentation all about gut health.
What is gut health?
What is the big deal about gut health?
Why do I need to know about it?
What is leaky gut?
What foods help to repair gut problems?

How to help improve your gut health!
How to start your healing journey!
Strategies to embrace!
An informative presentation to leave you feeling inspired to improve your own health & wellbeing!
Micheline is the original founder and previous owner of Broth of Life. Now a Nutritional Health Coach specialising in the Gut.
Gut Health Impacting on Mental HealthMental Health Impact:
What does the Vagus Nerve have to do with Gut Health?
What are Vagal tone symptoms?
Activation versus Regulation of Vagus Nerve!
Steps to take for positive mental health!
Bonnie Murfet is the first and only Tomatis ® Practitioner in Tasmania who runs her own practice in Burnie after completing her degree of Behavioural Studies through Swinburne University. This was attained after a long career within the Commonwealth and State Public Service. She is also a member of the Australia Psychological Society (APS) and passionate about all things pertaining to psychology.

Tickets $40 pp pre-paid or $45 on the door.

192 Wilson Street, Burnie (parking in side street and rear of building)

Saturday 22nd September, 2018

1pm-330pm