Description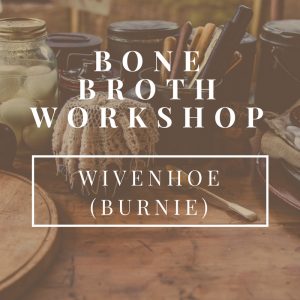 Bone Broth Workshop
@ 3 Dedham St, Wivenhoe, Burnie 7320 (Devils Drop 88 Winery).
Learn how to make Bone Broth from start to finish.
Uses and benefits.
Recipe and fact sheet.
Take home sample – please bring your own container.
.
Cost is $40 per person
Please bring a some glass jars for your broth sample.
Micheline's experience: Founder and previous owner of Broth of Life.
Nutritional Health Coach specialising in the gut.
Co-author: Sandwich Free Packet Free Lunchboxes.
Author: Bone Broth Basics.
Owner/founder:  Culture Clean.
Save
Save
Save
Save
Save
Save